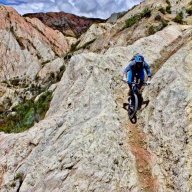 Est

Jul 23, 2001
Messages

15,280
Reaction score

3,740
Location
Tokens
Dirty Money
Welcome to Dude's very own DH / Freeride thread! No skinny guys w/ tight pants allowed (that's you, cross-country boy)! This thread is only for adrenaline junkies riding big bikes who hate to ride up hills, look for the big hucks, and take the fastest lines! This thread is not for the faint of heart!
BC is known worldwide for having the most difficult and extreme trails, located right here on the North Shore. Several other areas of the Province are catching up, including Whistler, Sun Peaks, Kamloops, Kelowna, Vernon, Penticton, Revelstoke, Fernie, and parts of Vancouver Island. I understand that even Hemlock is hosting a Canada Cup this season.
As a result, we are producing the best "Extreme" freeriders and downhillers in the world. Dave Watson, Richie Schley, Wade Simmons, Andro Shandro, and more are the worlds most sought after riders for filmmaking…all local products! Simply put, when riders come up here from California thinking they know it all, they quickly get new assholes ripped for them courtesy of us local boys (and girls)!
Do you race? What's you favorite run? Have any good stories to share? Here's the place.
My favorite place to ride last year was the Whistler Bike Park, followed closely by Sun Peaks. Why? They have an amazing network of runs built up, all from "single square" to "double black diamond" levels of difficulty. What makes them so much better than North Shore classics like "Ladies Only" and "Boogie Man"? Well, the chair lifts. The riding is up to the same level of difficulty, with some great hucks and drops…and you can get in as many runs as you sled and body will handle, all day!
I'd like to post photos, but all of mine seem to big. Maybe Regs can help me figure out how to shrink them???