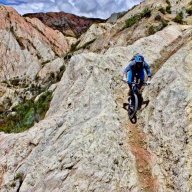 Est

Jul 23, 2001
Messages

15,269
Reaction score

3,736
Location
Tokens
Dirty Money
So, the Senate is recommending the legalization of Mary J.

I thought it would be interesting to see what people think, so I'll kick this off.

I'm a non-user of "illegal" drugs- a never has used, actually. I personally have just never bothered...probably because I don't smoke, and have never wanted to try a joint when everyone else around me was lighting up. (I know Guinness- maybe I should be lighting up...it'd mellow me out, right?).

That said, I've never really had a problem with it. I compare it to alcohol use, and I think one can damage himself / herself far more through excessive abuse of booze.

I've discussed this extensively with the missus, who's morality is always a little better in check than mine (through religious beliefs), and was surprised we actually both agree that there are more benefits to legalizing than prohibition. The "benefits" of legalizing outweigh the benefits of prohibition.

It also makes sense from the standpoint that it could be a huge revenue generator, and drastically reduce the costs to our police& legal departments, who are constantly chasing down offenders, only to have then get-off with barely a slap on the wrist.

What doe everyone else think?