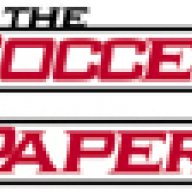 Est

Jul 30, 2006
Messages

91
Reaction score

0
Location
Tokens
Dirty Money
My favourite kits so far:
1. Brazil's Blue Kit
2. Both of the Dutch kits
3. Germany's uniform
4. United States blue with horizontal stripe
5. Cote D'ivoire

Ugliest Kits so far:
1. Slovenia (I can't believe Nike made that!)
2. North Korea (love how you can't even buy it anywhere)
3. Honduras (got rid of the big H that, for me, means "HONDURAN SOCCER")
4. Italy (the collar is awful and then the pattern on the abs looks like Batman's rubber costume from the bad batman movies)
5. Demark (geometric shapes and patterns + soccer = ugly).