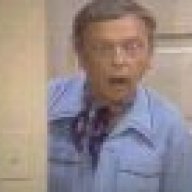 Est

Dec 1, 2001
Messages

1,568
Reaction score

5
Tokens
Dirty Money
Im fricken surprised there aint no Soprano thread forgetabouit!!

What a season finale!!!!!

Tony and Carmella split up.
Johnny Sacks wanted to wack the big boss and Tony said no!!!
The Soprano girls are hot ie Meadow and Crissys Chick(Drea de matteo dont know her name on the show)
Tonys uncle got off on his charges.

But the best was when Tony back out of a deal to buy a house the guy he bought it off didnt want to give his down payment back so in typical MAFIA fashion instead of wacking the guy big TS parks a boat in front of the mungacakes house and friken BLARRED Dean Martin all day long.

****in Hillarious!!!!

Cant wait for the last season.

Thank God for Movie Central.