---
The letter is somewhere. Stefan Cebara is certain he still has it among his belongings, no doubt tucked away for safe keeping as he later moved all over the map playing the game that has become his life. It's a note that dates back some 16-17 years now, back to when Cebara had just started to flash his soccer skills in and around Windsor, Ont. "I was about 12-13 and I remember being at a game and my dad was there to watch. He told me afterward I got some mail," Cebara told CanPL.ca. "When I got home there was a letter from the Ontario Soccer Association saying that I didn't make the provincial team. That was a heartbreaker for me. It was an emotional day and I can remember crying because it's obviously not the news you want to hear. "But that's when I really got motivated. That day I took that letter and I put it under my bed. I said, 'I'll show them.' It was my determination to prove them wrong and make my dream of becoming a professional soccer player and playing for my country a reality. I did that seven years later. "I took that letter personally because at the time it was everything I wanted. I had felt like I had let my parents down and I didn't want to do that. "That's why I kept the letter under my bed -- it was motivation for years." The letter and Cebara's reaction to it provides a revealing snapshot to his mindset then, and the man he has since become. But to fully understand his determination and drive we must rewind further back, back to some of his first memories as a child. Cebara was born in Zadar in Croatia, the second child of Miroslav and Mirjana. His parents were of a mixed marriage -- his father is Serbian, his mother Croatian -- and back in 1995 when the war for independence was raging a union like that was frowned upon. Feeling unsafe for a number of reasons, Cebara's parents -- who worked as exporters of fruits and vegetables – packed their son and daughter Valentina, along with grandparents, aunts and uncles into the truck they used for transportation of their goods. The details and the meaning behind the war and why they were being driven from their home were far too complicated for a four-year-old to understand. But during the 10-day journey Cebara did recognize the sounds of gunfire, of military machinery in the distance. And he could certainly see the fear and concern in the faces of his parents and other adults. "My memories are short and vague. But I remember the struggle," Cebara said. "It wasn't an easy time for my family, especially my parents. They were dealing with family separation and not being able to see their families for months, even years, during the war. So, the whole experience was much tougher on them than it was for me as a kid because I didn't really know and understand the full grasp of everything that was going on. "I remember the day we fled. I remember sleeping in the mountains and forests as the tanks rolled by. We would sleep in what we thought would be a safe area for the night, parked somewhere in the dark. All you can do is pray to God that you wake up safe. "You never know who or what you might run into at that time. There were a lot of bad things going on and so you never knew who you were going to run into. It was definitely gambling with your life. "I just followed my parents," Cebara added. "I didn't know what was going on. They had experienced so much more tragedy than I did then. I was just happy to be alongside them and to have them keep me safe at that time." The Cebaras spent the next two years living in a relative's home in Serbia while they waited for their paperwork to come through from Canada – the country his parents had chosen over Australia and the United States. They arrived in Calgary in 1997 with $150 and no friends or family anywhere nearby.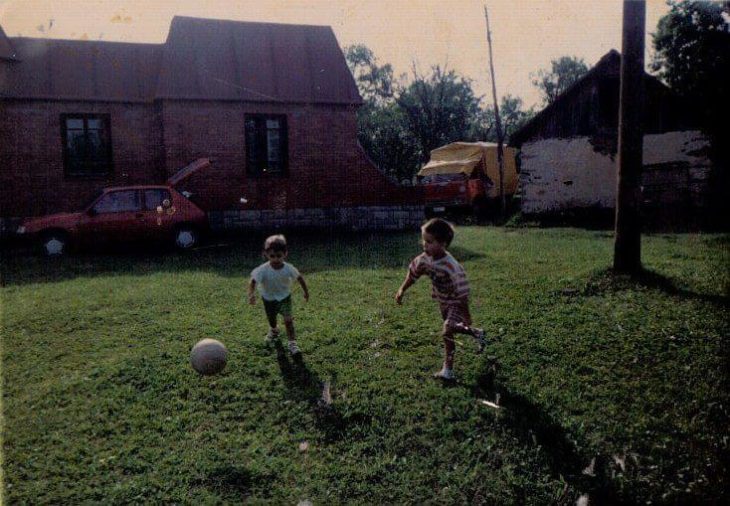 "We were really all alone," Cebara said. "It was harder then. My parents worked very hard, numerous jobs, to give me and my sister the best possible opportunities in life and to be successful and to be happy. My dad was a pizza driver for a while; my mother was a cook. And they really worked hard at it. "The first few days at school were definitely awkward with not knowing the language. I was part of the ESL (English as a Second Language) program for months until I learned the language. Once I learned then life and school became much more fun. Communication just became that much easier. I was fortunate to have some classmates from the Yugoslavia area and we were able to communicate. If I didn't have them I wouldn't have anybody to stick with at school. There were a few other kids who came to Canada from the same situation as me during that time." The family moved again in 2000, this time to Windsor, Ont., where they are settled in comfortably now. His mother and father work in the automotive supply business for Chrysler while his sister is a social worker. "When I think about it now… we're a close-knit family – me, my sister, my mom and my dad – because when we moved to Canada we didn't have anybody here. All we had was each other and we tried to help each other in any way we could," said Cebara. "But the sacrifices my parents made when they first came to the country were huge. They worked odd jobs in the beginning just to give me and my sister everything and a head-start in life. We definitely looked at their hard work and tried not to disappoint them with our decisions in life. "We tried to make them proud the best way we can." Cebara had played a variety of sports when he first arrived in Canada, but began to focus his attention on soccer when the family arrived in Southern Ontario. As a member of one of the best youth teams in the province, Cebara travelled to a number of tournaments and began earning recognition from U.S. colleges. Instead, he focused on chasing his dream in Europe, signing his first professional contract at age 19 with Zalaegerszeg in Hungary after playing with the Rad Belgrade youth team. "The way I looked at it, my whole family moved when they were young. My parents, when they came to Canada, weren't that much older than I was at the time when I went back to Europe," Cebara said. "When I want something I'm a very driven person and I'm willing to sacrifice a lot. I sacrificed a lot of years not being with the three people who meant the whole world to me at the time."
Cebara made his Canadian national team debut with the U20 team in 2011 and made his first appearance with the senior team in 2013 in a friendly against Japan. "That's the best feeling in the world. It's a lifelong dream accomplished," he said. "I still remember my debut with the national team and being around all the players I looked up to on the national team, guys like Atiba Hutchinson, Julian de Guzman and Milan Borjan. I was then in the same room with them getting ready to play against Japan. "It was a dream come true and I feel like the biggest accomplishment in my career is putting on that red and white jersey." Over the next 10 years Cebara also suited up with Celje in Slovenia, FC ViOn Zlaté Moravce in Slovakia, FT Utenis Utena in Lithuania and Vojvodina Novi Sad in Serbia. A deal with another new team for 2019 fell through before Cebara was convinced to return to Canada with Valour FC by GM and head coach Rob Gale and his assistants Damian Rocke and Patrick Di Stefani. He appeared in five matches for Valour FC during last summer's Island Games in PEI and immediately re-signed with the club in the fall when given the opportunity to return. "In 2021 I want to one of the best, if not the best, right back in the CPL," he said. "I feel like I still have potential and Valour has an opportunity to be a champion. That is my goal. If we can win the Canadian Premier League I want to be one of the best players on the team. I just want to help the team in the best way I can."
The many chapters of his past – from escaping his war-torn country, to adapting to new life in Canada, to keeping the letter about being cut, to finding his way as a professional – have also given Cebara a unique sense of perspective. He sees the world differently than many because of his experiences and, it could be said, has learned to also be adaptable. "What this all has taught me the most is to be resilient," he said. "I'm a very optimistic person in life. I don't let bad things define me and think that there's always a way out of a situation. And whatever situation you are in today doesn't mean it's going to be your situation tomorrow. I have a positive outlook on life and when you tackle your obstacles in life with a clear head anything is possible. "My motto for life is never give up. If you want to make something to happen and you want it bad enough, anything is possible no matter what it is."

Continue reading...