---
The Canadian women's team just can't buy a win against the United States. With captain Christine Sinclair and five other players missing, Canada opened its run at the 2021 SheBelieves Cup with a 1-0 loss to the U.S. on Thursday night in Orlando, as newly-installed coach Bev Priestman began her tenure with a disappointing result. Despite the loss, Priestman had to have been pleased with Canada's valiant effort versus the two-time defending World Cup champions. The Americans were made to work for everything they earned against Canada's resolute defence, while Priestman's side came close to scoring on a number of occasions, in addition to having been denied a clear penalty decision. Canada showed great commitment, work rate and spirit over the 90 minutes, which is something the Reds can build upon for the rest of the SheBelieves Cup. This match at the four-nation, invitational tournament was Canada's first since March 10, 2020 when it battled Brazil to a 2-2 draw at the
Tournoi de France.
Thursday's contest also marked Canada's debut under Priestman, who was hired last October to succeed Kenneth Heiner-Møller. With this result, Canada is now winless in 37 consecutive games (31 losses) against the U.S., a streak that goes back to March 11, 2001 when the Canadians last beat their neighbours to the south. Overall, the Americans sport a record of 52 wins and seven draws (and only three losses) against the Canadians dating back to their first meeting in 1986. History was just one thing working against Priestman's team going into this game. Sinclair, Diana Matheson, and Erin McLeod are all out injured and unavailable for Canada at this tournament. The Reds are also missing defender Kadeisha Buchanan (the reigning Canadian player of the year), midfielder Ashley Lawrence, and forward Jordyn Huitema – all three were not released by their French pro clubs. In Sinclair's absence, midfielder Desiree Scott wore the captain's armband on Thursday. Backup goalkeeper Kailen Sheridan earned the nod, but she came out after only 10 minutes due to injury and was replaced by starter Stephanie Labbé. Canada used a four-woman defence, anchored by Shelina Zadorsky and Vanessa Gilles in the middle. The U.S. carried the bulk of the play for the opening 30 minutes, though Canada held its compact shape and withstood wave after wave of American pressure. Midfielder Quinn and Gilles were effective in building out from the back and also thwarting the U.S. attack when called upon. Labbé made a pair of stellar saves, including tipping a dangerous header by U.S. forward Carli Lloyd from in close over the crossbar. Canada should have taken the lead in the 38th minute when a deflected shot fell to the feet of Janine Beckie who was alone at the far post. But the Canadian forward fired a tame shot from angle that hardly bothered goalkeeper Alyssa Naeher. Labbé fumbled a long-range shot inside her six-yard box with an American player lurking, but the danger was cleared and Canada went into halftime tied at 0-0. The U.S. stormed out of the gate to start the second half, with Labbé called upon to make smart saves on Lloyd and Megan Rapinoe. Beckie had another glorious chance to give Canada the lead after being fed a square pass from Nichelle Prince, who broke into the box after an American giveaway. But Beckie looked uncomfortable as she ended up firing right at Naeher, even though she was unmarked and had plenty of time to pick out either corner of the net. Forward Evelyne Viens entered the game as a substitute, replacing Deanne Rose and earning her first cap for Canada in the process. Moments later, Labbé did well to punch away a dangerous free kick whipped on net by Rapinoe. A triple substitution of Alex Morgan, Rose Lavelle and Christen Press saw the U.S. pour on the pressure and swarm the Canadians with their quick attack. Canada should have been awarded a penalty when American Margaret Purce handled the ball inside the box, but the referee didn't give a penalty. Lady luck shined on the Reds when Lindsey Horan's blistering shot beat Labbé but smacked the crossbar. The deadlock was finally broken when Canada couldn't clear its lines off an American free kick, and Lavelle fired a low drive past Labbé inside the near post. Zadorsky had a chance to equalize in injury time, only to see her header off a corner kick whisper past the post.
Goals
79' – Rose Lavelle (United States)
Discipline
None
---
Midfielder Sophie Schmidt made her 200th appearance for Canada on Thursday when she entered the game in the second half. In doing so, she becomes only the third member of Canada's "200-cap club," joining Christine Sinclair (296) and Diana Matheson (206). Midfielder Desiree Scott, who is fifth all-time in caps (156) behind the retired Rhian Wilkinson (181), is next in line to reach 200.
Overall, the U.S. is undefeated in its last 35 games against all opponents, and is riding a 51-game unbeaten run at home (with 46 wins).
Canada next plays Argentina (No. 31 in the FIFA world rankings) on Feb. 21 and Brazil (tied with Canada at No. 8) on Feb. 24. The team with the most points at the end of the round-robin wins the tournament. The first tiebreaker is overall goal difference, followed by most total goals scored, and then head-to-head results. This is the sixth annual SheBelieves Cup. The U.S. won last year's tournament ahead of Spain.
In Thursday's other SheBelieves Cup game, Brazil defeated Argentina 4-1 in the tournament curtain raiser. Like Canada, Brazil and the U.S. have qualified for the 2021 Olympics, and are using this competition to prepare for Tokyo.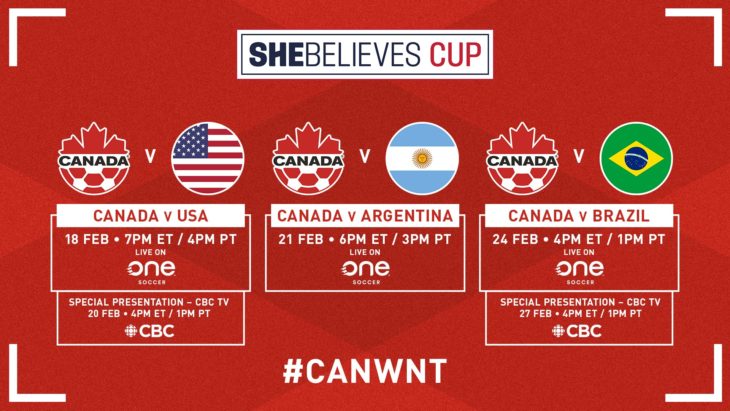 Continue reading...