Solomon Kojo Antwi spent his Christmas in the air, flying from Accra, Ghana, to Amsterdam and Toronto before arriving in his new home here in Winnipeg on Boxing Day. And that whole experience – from leaving his home, flying on an airplane and seeing snow for the first time – would be overwhelming for most. But spend even just a few minutes with Valour FC's newest international and his wide-eyed wonderment is instantly infectious. "It's a dream come true for me. I'm so happy," began the 19-year-old winger in a chat with
valourfootball.club
this week at the club's office at IG Field. "It's every footballers dream to play in a big country. It's amazing." Antwi's journey to Winnipeg covers more than the almost-13,000 kilometres he travelled to get here over the holidays. He left his mother and his home in Elmina, Ghana when he was just nine years old to travel three hours northeast to the capital of Accra, where he lived with his sister. Not long after he was identified by Nii Odartey Lamptey of the Glow-Lamp Soccer Academy and moved there to attend school and play the game he loves. To say Antwi has a passion for football and the pursuit of becoming a professional would be a colossal understatement. He punctuates almost every sentence by reaffirming his love for the game and opportunity he is getting now with Valour FC.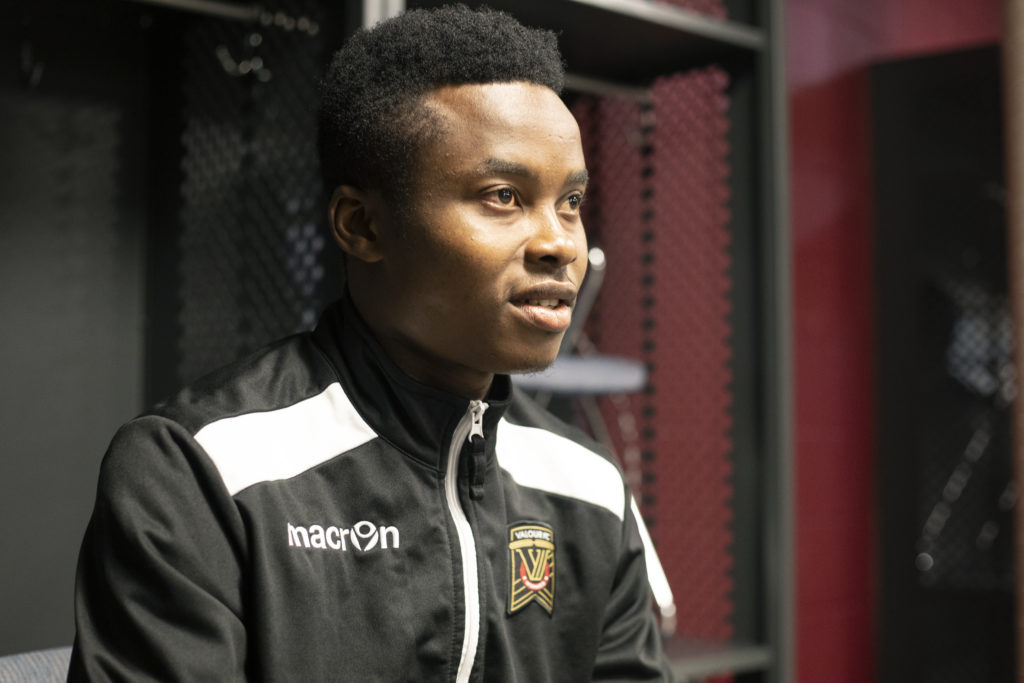 "It's a really good opportunity for young players from Ghana and other African countries. It's a good chance for me to start my career," he said. "I know that in Canada and the Canadian Premier League there are so many talented players. I am the first player to leave my academy for the CPL and so this could open the door for other opportunities for other players to make it." Antwi first appeared on Valour FC's radar through a Belgium-based agent. He has experience with the Ghanian U-20 team - his last invite coming in July of last summer – and Valour hopes he can take the next step in his development here in Winnipeg with the Canadian Premier League. "He's coming from a highly-credible academy in Ghana and tracked to the point where he's been invited to the Under-20 national team. That gives us an example of his ability to play at a high level," said Valour FC Assistant GM/Coach Damian Rocke. "Now, as a young player, it's about giving him exposure to the daily environment and continuing to push him in terms of his tactical understanding of the game to the point where he becomes a fixture for his Under-20 side in Ghana and then seeing what opportunities come from there." Antwi spent his first few days in Winnipeg living with Rocke and his family and is now living with new teammate Raph Ohin and his family. He then attended a New Year's Eve social for the local Ghanian community.
"From all the conversations and all the interactions we've had with Solomon over the last two weeks he represents everything we feel every young player should aspire to," said Rocke. "He has a desire to play at the highest level and do everything possible on a daily basis to get there. Frankly, we hope it's something that rubs off on players in the community when they see him around and understand where he's come from and how hard it is to achieve that." Putting boots on the ground in his new home is one thing, taking that next step in chasing his dream is quite another. Valour, which expects to open training camp in early March, will be patient with their new prospect. But his commitment is already unquestioned. "I'm really passionate for this," said Antwi. "I remember when I was younger and when I failed at school for the first time I told my mom, 'I don't really want to go to school any more. I just want to play football.' "The only thing she told me was that if I didn't pass this class I would not play football. I was a little bit afraid, but most of the teachers in my school had seen my play and came to my mother and told them she had a good player. They helped me. But there was no opportunity, no money. That's why I was so lucky to meet Nii in my life because playing professional is my dream. "When I was in the airplane all I could think was that this really was a dream come true. Arriving in Winnipeg… when I saw Coach Damian when he came to pick me up I was so excited. This is the first time they saw me, but they were so nice to me. The people in Winnipeg are really nice, even though they don't know you. "And now I have this great opportunity," he added. "It's important for me, for my friends, for my family and for my academy."
Continue reading...