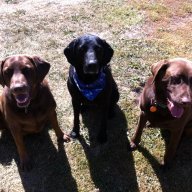 Est

Jul 4, 2001
Messages

6,107
Reaction score

274
Location
Tokens
Dirty Money
OK. This thread has the potential to be either gay, or cool. It could take off, or it could flop.
Explain why you picked your username. Some are going to be pretty self explanitory. Example: Regs, knvb, and Jamie
Some are not so easy. Example: Buckfast(is that a gambling reference?)Fastshow, and Penis.
I'd like to hear some of the stories behind a lot of them.
TheRob
is obviously a wrestling reference to the peoples champion. I used to enjoy watching the odd Monday Night Raw. Back when it was good. Soon my co-workers were calling me TheRob. CJ went by Big Show, and Scottie was The Game. Childish, I know, but that's how it came to be.
Lets hear them. Maybe at the end we'll take six or so that TheRob deems to be the best, and we'll have a poll. The best username on TTP. The winner will recieve nothing.