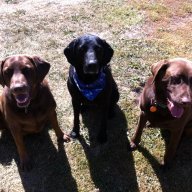 Est

Jul 4, 2001
Messages

6,106
Reaction score

274
Location
Tokens
Dirty Money
About a year and a half ago, I had a 80's music festival in my backyard. Great bands like Trooper, Kick Axe, and Helix were there. If I recall correctly it was strictly a Canadian affair. Well, the time has come for another show. I have a bigger backyard now, so we'll open this up to all bands. I have a few holes in the schedule that maybe you guys can help me fill.
Here it is:
TheRob's Not so roadside attraction: A 90's Music Festival.
Friday Evening
, August 15th.
I work until 3:30 so I need some time to get home and nail some 2 by 4's together for a stage. The first act will come on at around 7:00pm.
7pm to 8pm
- Live
8:15pm to 9:15
- I need this slot filled. Suggestions?
10pm to 11:30
Headliner
- Nirvana with special lead vocalist, that young dude from Silverchair.
Saturday
My bitch knvb needs to get all the outhouses cleaned before the show can restart so things will kick off at around 1pm. I need to restock the beer fridge to.
1pm to 2pm
- Dishwalla
2:15pm to 3:15pm
- Smashing Pumpkins(reunion show)
3:30pm to 5pm
- Beck
5:30pm to 7pm
- I need this slot filled. Fasty? Some gay English techno group perhaps?
7:30pm to 10pm
Headliner
- I want to put Hammer here, but I'll take suggestions. How cool would a MC Hammer show be though?
Sunday - 90's comeback day
Low on beer. Beer run. knvb is predicting he might pass out on the hood of The Apprentice's Iroc so the pisser might not get cleaned unless Regs wants to do it.
1pm to 2pm
- New Kids on the Block. Marky Mark and the boys are back.
3pm to 4pm
- Slot vacant. Anyone?
4:30 to 5:45
- Tool
6:15pm to 8pm
- Slot vacant. This is a prime slot.
8:30pm to 10:30pm
Festival Headliner
- U2 and flashback to the Popmart tour. Thing of beauty.
That's it. I need those slots filled though.
Tickets for the weekend will be $12.50 plus applicable service charges. Rangerforever has donated a pair of his game worn shorts to be auctioned off for charity. Should fetch a
large
sum. Any other donations will be greatly appreciated.
Remember, we're all friends here. No fighting.
Drinking in TheRob's backyard is a privilege not a right.

Schedule subject to change. Bands may change without notice. If you can't find Pitt Meadows or TheRob's house, that isn't my fault. No refunds.