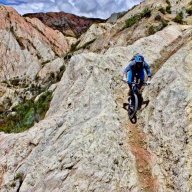 Est

Jul 23, 2001
Messages

15,261
Reaction score

3,734
Location
Tokens
Dirty Money
This is for Sexual Chocolate, and anyone else who has spent a term in Asia teaching english.
My cousin is spending a term there, and is nearing the end of it, along with the end of his rope. The lad is going bonkers. He sent out this e-mail, and I laughed my bag off.
This is unedited:
The Straw that Almost Broke the Camel's Back

Hey everyone.

I know my last few emails have tended to be on the negative side. Me complaining about the chinese way of doing things, the personal hygene of the people here and just my overall frustration with the PRC as a whole. I don't know what you are all thinking. I know that some of you thin I may have lost my mind, (Although there wasn't much of one there to begin with.) But through all my bitching and complaining, the frustration and growing impatience, I have but one refuage. My appartment.

My appartment is a modest place by Canadian standards, but I'm sure very nice by chinese standards. When you first enter my place you are in the kitchen, to your right is the bathroom. Walk straight through another door and you are in what the chinese call a "sitting room." The sitting room is about 12x12 the exact dimensions of my bedroom that is in the next room which can be seperated by a sliding opaque glass door, which I always have open. In the back of my place I have, well I call it a laundry room. Not big, more like 5x12. That's where I wash my clothes and hang them up to dry since no one in China has a dryer.

I've done little things to my place to make it my home away from home. My
little patch of Canadian soil right in the middle of Communist China. I have a Canadian flag hanging on the wall over my bed and pictures of the 2002-2003 Vancouver Canucks as well as the 2002 Olympic hockey team. I even have a "crazy eddie" type picture in my bathroom just like we used to have at 453 (453 is a bachelor dive Sean used to rent in Sapperton with his buddies). It's Issac from "The Love Boat smiling and pointing at me when I sit down on the John. Just something to make me laugh every day.

I usually lock my door at night when I go to sleep. I live inside a gated school so there aren't alot of robberies here, if any. I feel very safe, but sometimes I forget to lock my door. I forgot last night.

Since I've been on vacation I've been staying up and sleeping late. I did that too last night. That playstation can be addictive. well I drifted off to sleep at about 3 last night and was dead to the world. Dead to the world, until the rude awakening I had. When I woke up at 10 in the morning I noticed 3 strangers in my house. I recognised one of them was from the school. Two men one woman.

I got up and freaked out on them. They couldn't understand a ****ing word I was saying but I'm sure they got the meaning. I went to the door, which was still open, and said in my english and broken chinese, " In Canada you knock on the door, if no one answers you don't come in!" They stood there dumbfounded. so I told them to leave and used the universal go away shoo- shoo out of here sign. I think I even threw in a, "Mao mao diddy mao" at them. It's not chinese, I know, but when you are standing in front of three chinese people in your boxers after the rude awakening I had. You resort to anything to get them the **** out of your house.

One of them started saying something about Mr. Pan, the Chinese English teacher who has been my liason since I got here, but I was in no mood for listening. I told them to get Mr. pan to call me, (which he still hasn't) to explain this blatiant invasion of my privacy.

Now after all that, know I would have left if I was in their shoes, but nooooo, they still stood there. One of them kept saying "sorry, sorry" to me but him saying that wasn't getting his ass out the door. Finally I just pointed to the door and yelled "OUT!' over and over again until they left. I made damn sure I locked the door when They left.

I still don't know what the **** they were doing in my appartment, nor do I give a flying ****. This is MY space. My PRIVATE space. Privacy is a word not too many of the Chinese are familiar with. I guess 1.3 billion people reduces the ammount of privacy you can have, But still, use your ****ing head. It's just rude to come into someones home uninvited, not to mention waking their ass up. I won't lie to you it was almost the last straw. For about a half an hour after that I considered packing my bags and heading home for Canada. A country where you can sleep in your bed and not worry about three chinese people waltzing into your home and waking you up. Tomorrow I'm hunting down Mr. Pan and giving him an earfull. I'm gonna tell him that if it happens again they will have to find a new foreign teacher. If a Chinese person comes to Canada they need a visa. If you want to come to my house, you need a ****ing invite. This is Canadian soil as far as I'm concerned and I'll defend it with my last dying breath.

Okay so other than the incredable rudeness of my chinese hosts, I'm not doing too bad. Coming to grips with all the other things that have been bothering me these past few weeks. People stare at me (Sean is about 6'4", 230 lbs). I just stare at them right back. People yell "Hello" to me in the streets, I yell "Bonjour!" people point and say "la wai" I point back and say "chinaman." I think I've got it licked and actually have a lot of fun. The expression of peoples faces when I say bonjour is especially funny and I just know that even though I'm on their turf here in the PRC, I can play by my rules and change
them accordingly.

Would give my left nut for a Molson Canadian,

Fargi
Mao mao diddy mao,
Dude.