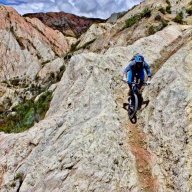 Est

Jul 23, 2001
Messages

14,894
Reaction score

3,459
Location
Tokens
Dirty Money
...as for the show...

I rate it as a 6/10 as compared to some of the very good originals out there now on Netflix and others. I like the suits characters and story line, but VERY repetitive and predictable.

-Harvey is going to bulldog someone, and likely threaten to punch that person.
-Mike is going to get himself into a bind where only his superior brain matter will find a way out. Oh, Mike, when will you ever learn....
-Litt is going to make an awesome, awkward ass outta himself because he's so clueless ("This dildo is going to be in your face and up your ass..."), and probably going to cry when talking about his failures at finding love. Best character on the show, BTW.
-Jessica is going to put her foot down and threaten to fire someone.
-Donna is Donna.
-Rachel is going to get hurt, usually by Mike, but always forgives.

Wash, repeat. It works.