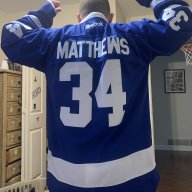 Lifetime Better Bastard
TTP Bookie Staff
Est

Sep 7, 2004
Messages

6,880
Reaction score

863
Location
Tokens
Dirty Money
Well it's almost half way through the Regular season and since there will be one promotion spot in each group and one relegation this seems like a perfect to make predictions of who is going up!!


Div 2a

Well this may be a bold prediction but Delta Fc will make promotion here!

Two reasons 1)They are the only team that can compete in Div 1 not to slag any other team but delta fc will turn it up in the new year and show everyone they don't have many weaknesses......(maybe your goalie I personally don't think he is very good...but thats me)

Relegated

Easy one there.....you may say it would be the Titians but I'm picking The White Rock Moby Dick team.....hey they make good fish and chips though!

Div 2b

Promotion Poco Unitied not much different from the div 1 team but if they make it up there again look for them here in 2006

Relegated Surrey Coyotes......horrific team!!


Div 2c

I would like to say the Wolves but don't think that will happen this year....I'm going with the young Moody team.....very skilled but don't think they can compete in Div 1

Relegation

Peace Arch......they can't field a team that can coexist with each other and are continully getting blasted now week after week!!