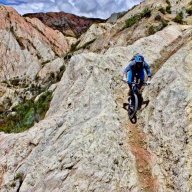 Est

Jul 23, 2001
Messages

15,280
Reaction score

3,740
Location
Tokens
Dirty Money
Thread dedicated to reporting on and reviewing good sandwiches. Or, hyped sandwiches.
Today's sandwich is the much hyped
SUBWAY MONTREAL SMOKED MEAT
.
In my never ending search for the perfect sandwich, I found myself being sucked into Subway today in response to the Smoked Meat blitz. Typically, and in most Sandwich Connoisseurs' opinions, Subway is nothing short of visiting purgatory. Not quite sandwich hell, but a far cry from heaven (which in my opinion is Kaplan's Deli, on Oak). That said, being a fan of the Montreal Smoked Meat, I found myself feeling obligated to check this out.
PRESENTATION
Right off the bat, they lose points w/ me. Now, going in, I do realize that this will be packaged in a typical Subway sub. Tabernacle! But, I also accept that marketing is everything, and you can't expect Subway to sell...erm...non-sub sandwiches. That's forgivable.
What is not forgivable is that they did not have sauerkraut or hot mustard! How the fcuk can they sell a Montreal Smoked Meat w/ no hot mustard! The bitch even offered
to put some jalapeño ranch dressing on it! It took every ounce of restraint not to jump the counter and kick her in the cnut for her disrespect for the Montreal Smoked Meat, but being a professional, I managed to calm myself and say, "Just pickles, please". Then politely explained that if she ever offered to ruin my sandwich with jalapeño ranch again, I'd hunt down her family. Actually, I told her co-worker, who translated.
BETWEEN THE BREAD BULK DENSITY
One thing subway has never cheated on is the meat. You get a lot. That being said, I was a little concerned the bread- as often is the Subway case- would overpower the meat. Not too bad here. They had a lot of meat packed into this baby. Rough estimate at 10-12 ounces. Problem is, it is spread along a lot of sub bun.
TASTE
I must say I was pleasantly surprised, even though the sandwich was missing two very key ingredients of a Montreal Smoked Meat- hot mustard and sauerkraut. In fact, I devoured the full 12 inches faster than Guinness dressed in sheep's clothing at the PAU Christmas calendar shoot. It was pretty good! But, I have to point out, the meat was a little too lean for my liking. For a true Smoked Meat, you need a little more fat, less lean.
VALUE
The sandy cost me ~$10.50 or so. Typically, I'll pay $14.00 at Estrella's Deli (Langley, 200th and about hwy. 10, just South of the tracks, left hand side, beside the dentists office) for their big one. You feel full after that one, and need to go through very little bread, and a whole lot of hot mustard and sauerkraut to get to the goods. But…did I feel full after Subway? Satisfied? Sadly, like Guinness…no, I did not. I felt like I had paid $10.50, and would have paid $5.00 more for extra meat, sauerkraut, and hot mustard. Likely the overly lean meat attributed to my lack of fullness. Again, not unlike Guinness.
In the end, I think it is a good attempt, but they are not quite worthy of being in the same class as Estrella's, Frenchie's, or even Annie's. I won't even mention them in the same breath as Kaplan's- or heavan forbid- Schwartz's. They will earn some followers, but they will be uneducated in the same way Californian's are educated about their hockey. Yes, they have a product, and they may like it- even love it- but it isn't the real deal.
SCORE: 2.5 / 5 toothpicks.
If you have a sandwich you'd like reviewing, please send me a PM here, and I will make every attempt to accommodate your request. Appointments only. Or if I'm hungry.