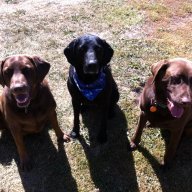 Est

Jul 4, 2001
Messages

6,106
Reaction score

274
Location
Tokens
Dirty Money
This is a thread that shows someones age more than anything. It'll be for things that um.....suck I suppose. For example:
Remember when you were a kid and you were driving with your parents. Every now and then you would get stopped at a railway crossing. You used to think that this was the coolest thing. You'd count the cars, pump your arms up and down to see if you could get the Engineer to honk his horn. Good times. But you know what I always looked forward to? Seeing the caboose. That was always my favorite. The guys on the back used to wave and stuff. Cool for a kid. Now..............there are no caboose's. They're all gone to museams or scrap yards. It's all computerized now. They don't need the guys on the back to tell the engineer that they've cleared a crossing or whatever. No caboose's.
My daughter is two years old. She loves trains. Every time she see's one she yells, "Choo choo train! Daddy! Choo choo train!" I smile and say, "Yeah. Choo choo train." But sadly, no caboose. She will probably never know what a caboose was. When we threaten to give her a whack on the caboose, she'll wonder what the hell her old man is talking about. She'll think I'm crazy, and maybe I am. Crazy about caboose's. But there are none left. That sucks.
So there you go. That's what this thread is for. Things that you think suck. Some of you will say, "This thread sucks." Haha. Good one. If it sucks, don't use it bitch.