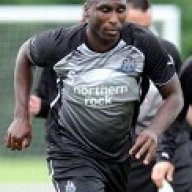 Est

Jul 8, 2001
Messages

725
Reaction score

59
Location
Tokens
Dirty Money
BUENOS AIRES, March 20 (Reuters) - Ecuador champions Emelec interrupted a training session ahead of their Libertadores Cup clash with Boca Juniors to chase a group of youths who stole their balls, a team spokesman said Wednesday.

Wayward shooting during Tuesday's practice by Emelec, who are bottom of their group, sent some balls flying out of the training ground and into the streets of the district of La Boca, where they were snapped up by the youths.

Strikers Otilino Tenorio and Moises Cuero gave chase, the spokesman said.

``Otilino and Cuero ran several blocks after the lads but came back with the balls,'' he said.
It's funny 'cause it happened to me in Calgary once. We were playing in the provincial finals on a pitch right beside the Trans-Canada on the edge of town. One of our strikers (OK, well, me) cleared a ball off of out of their six-yard box well over the very tall fence that surrounded the complex. The ball ended up rolling to the edge of the highway and a couple of players started bitching about who would have to go get it. All of a sudden this guy in a black Trans-Am slows down and gets out of his car. He picks up the ball and looks like he was going to kick it back to us. He tosses it in the air,catches it, looks at it and in a fit of brilliance, flips us the bird. decides to get back in the car and drive off to Banff.