September 6, 2020
The Canadian Premier League today announced the seeding for
The Island Games
Group Stage, The Group Stage will begin with two matches on Wednesday, September 9 at 1pm ET/2pm AT and at 8pm ET/9pm AT at University of Prince Edward Island (UPEI) Alumni Field in Charlottetown, PEI. Both games will air on the League's media broadcast partner OneSoccer. Number 2 seed HFX Wanderers will open group stage play against Number 3 Forge FC followed by Number 1 seed Cavalry FC matching up against Number 4, Pacific FC on September 9. At the completion of the 6-match Group Stage the top two clubs will advance to the single match Final and be crowned the 2020 Canadian Premier League Champion. The 2020 Canadian Premier League Champion will be awarded the North Star Shield, advance to the one game
2020 Canadian Championship
Final and earn a 2021 CONCACAF League berth. The full schedule can be seen below: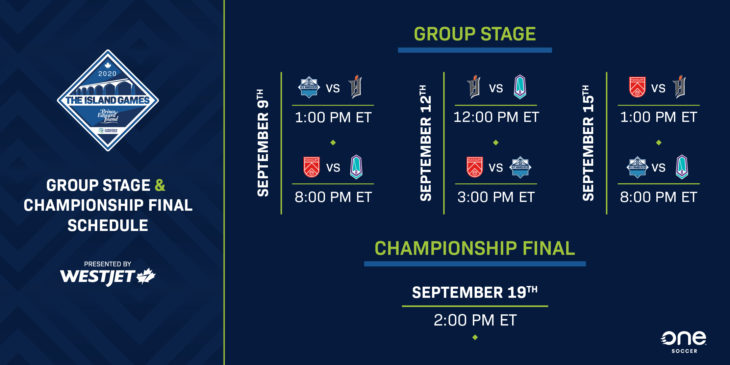 About The Island Games
Charlottetown Prince Edward Island is the host location for the Canadian Premier League's 2020 season.
The Island Games
commenced on Thursday, August 13 with all eight (8) Canadian Premier League Clubs participating: HFX Wanderers FC, Atlético Ottawa, York9 FC, Forge FC, Valour FC, FC Edmonton, Cavalry FC and Pacific FC. All matches will be played at the University of Prince Edward Island (UPEI) Alumni Turf Field.
About the Canadian Premier League
Canadian Premier League
(CPL) is Canada's professional men's soccer league that debuted on April 27, 2019. Headquartered in Toronto, ON, the Canadian Premier League features eight clubs from coast-to-coast. For updates and more information on the CPL, a league for Canadians by Canadians, visit
CanPL.ca
. Connect with us on Twitter:
@CPLsoccer
and
#CanPL
Media Contact:
Micki Benedetti Canadian Premier League
micki.benedetti@canpl.ca
Continue reading...