2019 CPL Record (W-D-L): 8-4-16 (6th)
Goals scored: 30
Goals against: 52
Goal Difference: -22
Top scorer: Marco Bustos (7)
The first year of the Canadian Premier League was a bumpy ride for Valour FC, who stumbled to a sixth-place finish (tied on overall points with last-place HFX Wanderers FC, but ahead on tiebreakers to avoid the wooden spoon). As a result, coach Rob Gale has gone back to the drawing board, bringing in a deluge of fresh faces to rejig his squad and possibly climb up the table in 2020. Only seven of his players from last season have returned, with an impressive cast of new internationals and domestics alike converging on Winnipeg. Unfortunately, Valour has lost some of its key players from 2019 in Marco Bustos, Michael Petrasso, and Louis Béland-Goyette — all of whom left for other CPL outfits. The question now will be whether or not the club has done enough to replace them. Valour will travel to Prince Edward Island with a squad of 21 players, with international defender Amir Soto unable to join them. With an almost completely different lineup, it's hard to guess how exactly Gale might deploy his side to begin the new season — or even what formation he might use. Still, we've made our best educated guesses at how Valour's starting 11 might look on day one.
RELATED READING:
2020 CPL regular season: The Island Games
GOALKEEPER
James Pantemis
Valour made a huge upgrade in goal, adding a young 'keeper on loan from MLS outfit Montreal Impact. Pantemis already has experience in Canadian national team camps, and he's highly-regarded by his parent club. With his talent and pedigree, it's not much of a stretch to
imagine we could have another Marco Carducci story
on the cards here.
DEFENDERS
Arnold Bouka-Moutou, Andrew Jean-Baptiste, Chakib Hocine, Stefan Cebara
Valour struggled to keep the ball out their net last season, so the defence is almost completely new. Bouka-Moutou is a proven defender with recent experience in the French topflight. That said, he's 31 and perhaps not a gazelle in terms of pace; he'll line up at left fullback, but he may need some protection from midfield. His centre backs, Jean-Baptiste and Hocine, also have pace, and can cover for him if needed. On the left of the centre back pairing could be Haitian international Andrew Jean-Baptiste, a reliable 28-year-old with 41 games of MLS experience. Joining him should be former HFX Wanderer Chakib Hocine, who showed promise in year one despite missing significant time with injury. Another newcomer, 29-year-old Canadian Stefan Cebara, is apparently likely to get the nod on the right side. Traditionally more of a winger, Cebara's game can be adapted well to the fullback role with his attacking abilities.
MIDFIELDERS
Brett Levis, José Galán, Fraser Aird
This is a tougher one to figure out, since Valour's midfield group features primarily players more comfortable in wide roles. It's quite possible they end up going with a back three, and Raphael Garcia moves up to play right wingback. Gale could play a pair of Canadians, Levis and Aird, in midfield positions on the flanks, although Garcia or even Diego Gutiérrez could play there just as well. Levis, the first Saskatchewan native in the CPL, has solid MLS and USL experience and should be a big help to the left side. Aird, who came home to Canada from Scottish side Cove Rangers, will fill in on the right. He could probably fit anywhere up that touchline, too. Filling out the midfield will surely be experienced Spaniard Galán. He recently re-upped with the side, expressing his fondness for the club and the city of Winnipeg. At 34 years old, we'll see if he still has what it takes to anchor a midfield for Valour.
FORWARDS
Moses Dyer, Daryl Fordyce, Dylan Carreiro
More new faces make up two-thirds of the front three. New Zealand international Moses Dyer, one of the more intriguing signings of the off-season, is set to line up on the left wing. He could be a threat to score, or to cut inside and create opportunities for teammates. It seems he can play either out wide or in an attacking midfield role, so perhaps coach Gale plugs him into a number of different positions. In the middle is 33-year-old Daryl Fordyce, a club legend at FC Edmonton (in the NASL) but just getting started in Winnipeg. Coming over from Sligo Rovers in Ireland, he's the logical choice to start up front for Valour. Fordyce was FCE's all-time leading scorer in their NASL days, with 34 goals to his name for the Eddies between 2013 and 2017. He was recently-named co-captain of Valour FC, along with the next player we'll name here... Over on the right is local boy Dylan Carreiro, who (out of necessity) gets pushed into a more attacking role in this formation. Carreiro played 24 games for Valour last year, and he's likely to play a key role for the squad this season as well, as one of the few returning domestic players. He could look to become more involved with the attack in lieu of Tyler Attardo, after banking two goals and three assists in 2019.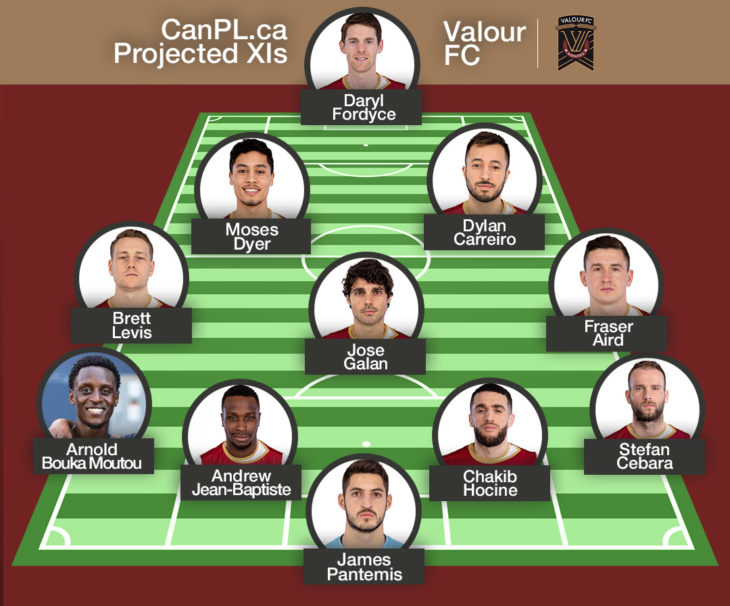 BENCH
Matt Silva, Yohan Le Bourhis, Julian Dunn, Dante Campbell, Raphael Garcia, Diego Gutiérrez, Solomon Kojo Antwi, Masta Kacher, Raphael Ohin, Austin Ricci, Federico Peña, Shaan Hundal
Valour will give former York9 'keeper Matt Silva a shot as backup to James Pantemis, although it's very likely that he only comes in to play if Pantemis get injured. Beyond that, Valour has 20-year-old defender Le Bourhis to fill in wherever necessary in the defence. Ghanaian winger Antwi could be a wild card off the bench, apparently coming to Valour with plenty of talent (enough to earn attention from European clubs, reportedly). Winger Masta Kacher is a very intriguing option as well, and it's certainly possible he ends up in the first-choice starting 11 (up front, with Carreiro dropping back, perhaps?). Hundal, as well, has a lot of talent as a former Toronto FC II striker, and he could be called on to provide some scoring help.
Coach
Rob Gale
Gale has indicated already that he'll be banking on a "scoring-by-committee" approach at The Island Games. "Moses (Dyer), Fraser (Aird), Brett (Levis), Daryl (Fordyce)… those guys are likely to shoot more," he told CanPL.ca recently. "Then the opposition has to respect that and the defence has to get a bit tighter. People knew last year we were over-playing and then just sit off a little more off us because we were less likely to shoot." Aside from that, Gale has plenty of decisions to make with his lineup. He has a lot of similar players to fit into ten field positions, so it might be a bit of a balancing act. On the bright side, that also means the squad is pretty deep in key spots, and Valour can easily rotate to keep things fresh on short rest. This is a pretty new team, with potentially an entirely new outlook compared to the 2019 season. Valour has a lot of work to do, but they do have players that could make them a threat in Prince Edward Island.
Continue reading...