2019 CPL Record (W-D-L): 19-5-4 (1st)
Goals scored: 51
Goals against: 21
Goal Difference: +30
Top scorer: Dominique Malonga (11)
The pressure is on Tommy Wheeldon Jr.'s Cavalry FC to repeat the regular season success they had in 2019. After winning both the Spring and Fall campaigns in their first year, finishing six points clear of Forge FC (whom they lost to in Finals 2019), Cavalry continued to tinker with their squad to try and build on early success. This time, though, they'd like to come out of it all with a trophy. In 2019, the Cavs won their first seven games in a row. If they do that in Prince Edward Island, well, they'll be perfect in the opening stage of the competition, and they'll guarantee themselves first place in the eight-team table. Every match will mean an incredible amount to each team, though, as they vie for the top four. Of course, other teams stocked up heavily as well, as what looks like a CPL arms race continues to heat up. Plus, the Cavs lost some key contributors in Dominique Malonga, Julian Büscher, and Joel Waterman. So, will they be able to stay on top? Here's a look at how Cavalry FC's lineup might look in 2020.
RELATED READING:
2020 CPL regular season: The Island Games
GOALKEEPER
Marco Carducci
The best 'keeper in the Canadian Premier League is returning for the Cavs 2019. Expect him to remain between the pipes the whole way through The Island Games. Niko Giantsopoulos is a very capable backup, should anything happen to Carducci, but this job belongs to Marco. There may be something to be said for rotation if the Cavs run into games in quick succession, but bet on Carducci getting the start if positioning is on the line.
DEFENDERS
Nathan Mavila, Mason Trafford, Dominick Zator, Dean Northover
When Joel Waterman left for the Montreal Impact, Cavalry was left with an open spot in the defence. They do, of course, still have Jonathan Wheeldon in the squad, and it's possible (perhaps even more likely) that he gets the nod. However, what really changed things for Cavalry was the news that right back Dean Northover will be returning, which means Dominick Zator can slide back into his natural centre back spot. The Cavs also have young Robert Boskovic waiting on the bench for an opportunity. He's on loan from Toronto FC II, and his extensive USL experience might make him a good option for squad rotation, too. Plus, he's one of the few under-21 players on an older Cavalry squad. Before suffering a season-ending ACL injury last year, Northover was very capable at right fullback. He's known Tommy Wheeldon Jr. and many of his Cavalry teammates for a long time, and with things like chemistry so important in a short season, he'll probably get the nod over PLSQ standout Mohammed Farsi. Mavila was reliable on the left in 2019, and it's unlikely anything will change in that regard for this year. He's consistently good, and stability is always a positive.
MIDFIELDERS
Nik Ledgerwood, Elliot Simmons, Elijah Adekugbe
Replacing Julian Büscher in midfield will be difficult, but Cavalry look well-equipped to handle the departure. They've brought in Elliot Simmons from HFX Wanderers FC, and he could be the ball-mover they need to pull the strings. Elijah Adekugbe can also be deputized in that role, as one of the better midfielder passers in the league last year. He'll perhaps help take some of the load off of Simmons and link the midfield better with the attack. Ledgerwood, the club captain, will continue to be the primary ball-winner, likely sitting the furthest back of this trio. He's a hard-nosed player who will embody Cavalry's general ethos this season once again. Ledgerwood is, really, the pivot of the Cavs' high-press system, as he helps organize the midfield and keep the energy up.
FORWARDS
Sergio Camargo, Jair Córdova, Nico Pasquotti
Selections will be a very tricky business for Tommy Wheeldon Jr. as he's spoiled for choice up top (especially on the wings). Córdova is probably the out-and-out striker for day one; he has a good deal of experience and talent, so he could slip into Malonga's shoes comfortably. Jordan Brown is also an option here, as is former Pacific forward José Hernández, and Canadian veteran Marcus Haber. Out wide, Cavalry won't want to lose the talents of Nico Pasquotti, who was excellent in tight spaces and working toward the box last year. His cannon of a throw-in helps his case, as well. Still, in developing his lineup, Wheeldon will want to make sure that Pasquotti is able to drift wide. A healthy Sergio Camargo will do wonders for the Cavs. At times during the 2019 Fall season, we forgot how important he is to the club, due to how well Oliver Minatel played in Camargo's absence. However, this spot is still Camargo's to lose, and so we can expect him to be in the first-choice 11 (out on the wing, though, rather than his more natural number 10 role). Camargo would be able to play in his regular spot if Cavalry had José Escalante and Richard Luca at their disposal, but unfortunately those two tricky international wingers will be unavailable for The Island Games. All of the above players should see ample playing time in a rotated system, as the Cavs will surely need to refine who exactly is best-suited to their lineup. They're a very deep team that can field a full-strength starting 11 even with several players rotated.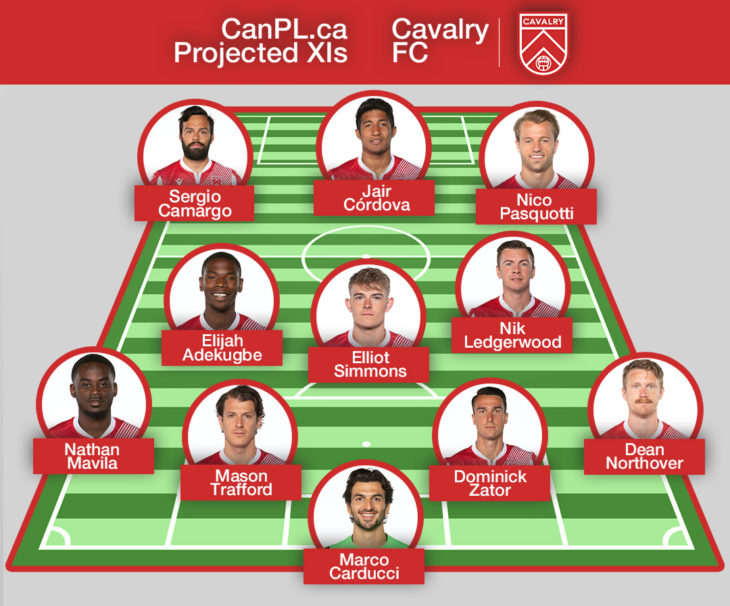 BENCH
Niko Giantsopoulos, Jay Wheeldon, Robert Boskovic, Mohammed Farsi, Bruno Zebie, Oliver Minatel, Jordan Brown, José Hernández, Aribim Pepple, Marcus Haber
There's plenty of talent here, including a ton of fantastic players who broke out in the CPL last season. Many of these names would be locks to start for any other team in the league, such is the wealth at Cavalry's disposal. Bruno Zebie, who joined from
Al Classico
rivals FC Edmonton, may try to make a name for himself, and it's likely we see the vastly experienced Marcus Haber deployed as a battering ram in the latter stages of games. What stands out is that the Cavs have a lot of attackers on the bench, as well as capable deputies in the backline. Their best midfielders are all on the pitch in this proposed lineup, but it's possible they play it a little safer and rotate between Simmons and Adekugbe, to avoid an emergency and keep one of them fresher for the next night.
COACH
Tommy Wheeldon Jr.
The CPL's reigning coach of the year will be back to try and prove his mettle again. He managed to build the 2019 Cavs into a well-organized squad that was incredibly difficult to play against at all times. Their characteristic high-press system was absolutely exhausting for other teams to play through over 90 minutes, meaning that Cavalry was often able to bide their time and score winners in the final 20 minutes of a game. We'll have to wait and see whether or not that "90 Minutes of Hell" will still be feasible in this shortened 2020 season. Other teams' match fitness may be slightly down, having not played real games in so long, which could mean they burn out even more quickly when faced with a rampant press. Cavalry's match fitness could be down as well, though, which would make it tough to keep up that aggressive style of play. This may be the biggest question facing the Cavs as they prepare for The Island Games.
Continue reading...