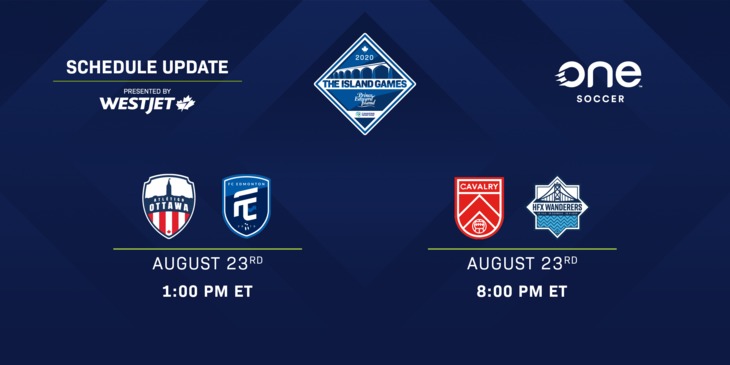 August 20, 2020
– In light of the teams participating in the UEFA Champions League on Sunday, August 23rd and to give our fans and supporters the opportunity to support both this final and the Canadian Premier League's Sunday doubleheader matches we have re-scheduled the matches as follows :
Sunday August 23, 2020
Atlético Ottawa vs FC Edmonton 2:00 PM AT /1:00 ET Cavalry FC vs HFX Wanderers - 9:00 PM AT / 8:00 PM ET
Schedule by Club
HFX Wanderers
Atlético Ottawa
York9 FC
Forge FC
Valour FC
FC Edmonton
Cavalry FC
Pacific FC
Link to full league schedule:
www.canpl.ca/schedule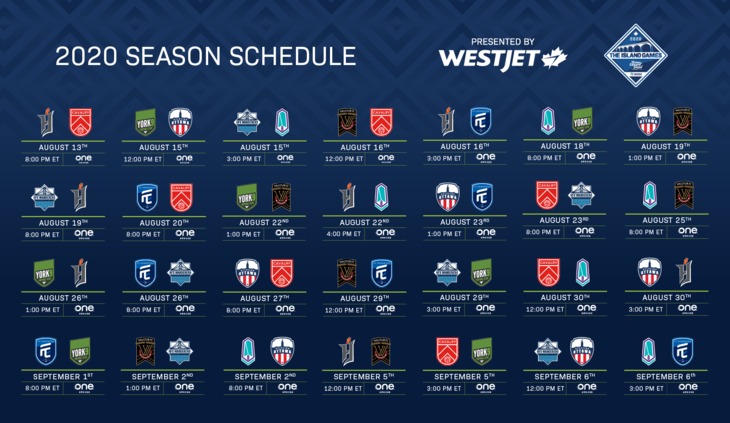 About The Island Games
Charlottetown Prince Edward Island is the host location for the Canadian Premier League's 2020 season.
The Island Games
that commenced on Thursday, August 13 with all eight (8) Canadian Premier League Clubs participating: HFX Wanderers FC, Atlético Ottawa, York9 FC, Forge FC, Valour FC, FC Edmonton, Cavalry FC and Pacific FC. All matches are played at the University of Prince Edward Island (UPEI) Alumni Place Turf Field.
About the Canadian Premier League
Canadian Premier League
(CPL) is Canada's professional men's soccer league that debuted on April 27, 2019. Headquartered in Toronto, ON, the Canadian Premier League features eight clubs from coast-to-coast. For updates and more information on the CPL, a league for Canadians by Canadians, visit
CanPL.ca
. Connect with us on Twitter:
@CPLsoccer
and
#CanPL
Media Contact:
Micki Benedetti
micki.benedetti@canpl.ca
Continue reading...