The 2020 Canadian Premier League season is fast approaching, and with home opener dates now out for the Canadian public to dissect and discuss, the CanPL.ca team has been debating which of the eight fixtures promises to be the most exciting – and, as such,
the
must-watch bout of the bunch. "But, CPL Editorial," you ask, puzzled. "Aren't
all
the matches must-watch affairs?" Yes. Obviously. But, not all must-watch fixtures are
must-
must-watch fixtures. Should you
renew your OneSoccer subscription
and watch every single one of these tilts, regardless? Of course. But, if you had to choose one, here's what we'll be keeping a close eye on across the country:
RELATED READING:
CPL reveals 2020 season home openers; full schedule to come Feb. 21
O'CONNOR-CLARKE: Forge FC vs. Cavalry FC, Tim Hortons Field, April 11
Honestly? I would've picked game one no matter who was playing. It's been a long winter; I'm sure I'm not the only one who's itching for CPL soccer to return. On top of that, though, did it get any better than Forge versus Cavalry in 2019? The two best teams in the league, by a significant margin according to points totals, gave us an unbelievable show, without fail, every time they met. Remember Nico Pasquotti's last-gasp winner in their first encounter? Or Alexander Achinioti-Jonsson strapping on goalie gloves in the Canadian Championship? What about, obviously, that thrilling two-legged CPL Finals showdown to put a bow on the league's inaugural season? Both these teams have something to prove, perhaps even to each other. The Cavs were stunned to lose Finals 2019 to Forge after winning the Fall and Spring seasons, to the point that Tommy Wheeldon Jr. offered that they were, really, league champions. Forge had the last laugh in 2019, but they'll certainly want to show their bitterest rivals that they'll have the upper hand this year as well. Plus, don't we all want to see how they survive without league MVP Tristan Borges? Pick a narrative, any narrative. Doesn't matter which. The Canadian Premier League will be back on April 11, and I can't wait.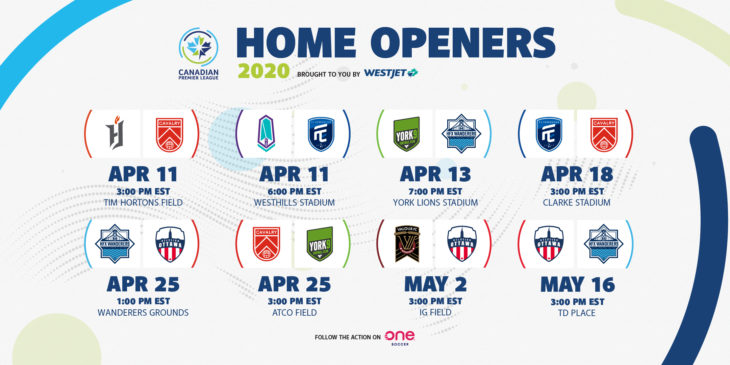 THOMPSON: FC Edmonton vs. Cavalry FC, Clarke Field, April 18
CPL's 2020 season is picking up where 2019 left off. FC Edmonton's home opener will bring
Al Classico
rivals Cavalry FC to town in the second opening-weekend of Year 2. It's the reverse fixture of 2019's regular-season closer which saw Cavalry take the Fall title with a 3-1 win over the Eddies at Spruce Meadows. But this match is
not
about Cavalry – FCE is driving this narrative. The Eddies were, quite honestly, embarrassed by their inaugural season showings in
Al Classico
, managing to take only a single point off their Alberta rivals over five matches. There were some dire home performances too – specifically that 3-0 Spring season win that put the Cavs in pole position for a title. Jeff Paulus' group is also the biggest enigma of the seven first-year clubs as they bring in potential danger men such as
Hanson Boakai
and
Raúl Tito
. The Cavs, meanwhile, have largely kept the status quo – save for a few big-name losses – in their year-to-year roster build. Have they fallen down a peg with the departures of
Julian Büscher
,
Joel Waterman
, and potentially Dom Malonga? In summary, this could be a massive statement of intent for the Eddies. Can they close the gap on their Albertan rivals and snag a first-ever
Al Classico
win the process? What a way to start the season.
RELATED READING:
CPL clubs to unveil home kits Feb. 27, away kits to come early April
BEDAKIAN: Cavalry FC vs. York9 FC, ATCO Field, April 25
Sure, a rematch of Finals 2019 between Cavalry and Forge is scintillating stuff, as is an
Al Classico
bout between the Cavs and Albertan rivals FC Edmonton in the provincial north.
But
I'd argue that the most exciting matchup Tommy Wheeldon Jr.'s side faces is a visit from Jimmy Brennan's York9 FC at ATCO Field, Spruce Meadows. The Nine Stripes of 2020 are much improved on paper compared to the inaugural season outfit. No Ryan Telfer? No problem. Michael Petrasso slots into the wing as naturally as you'd like, helped on by fellow home-comers Chris Mannella and Matthew Arnone, alongside Brazilian attacker Gabriel Vasconcelos. With a year of experience under their belts, the on-the-ball approach Brennan touts has also had plenty of time to develop into an effective system of play. It's why York9 is the only team to deliver a walloping to Forge FC in 2019, and why they've gone from mid-table middlers to top-table contenders in my eyes. That battle for first and second in the league won't be as straightforward in 2020. A first bout between York9 and Cavalry – two teams that have a testy history going as far back as 2019 pre-season in Punta Cana – ought to produce a fiery start in wintery Calgary, as such.
MOLINARO: Atlético Ottawa vs. HFX Wanderers FC, TD Place, May 16
The future of pro soccer in the nation's capital looked pretty bleak last November when the Ottawa Fury ceased operations and pulled out of the USL. But then
Club Atlético de Madrid reached out to the CPL
, and one thing led to another before
Atlético Ottawa was born
as the league's first expansion franchise and its eighth club. Atlético Ottawa will have to wait more than a month into the 2020 CPL season to make its home debut. But the prolonged wait is just going to lead to more anticipation for May 16 when the league's newest team welcomes HFX Wanderers FC to TD Place in the middle of Spring for what promises to be a spirited celebration of the game in the nation's capital. The match-up is a rematch (sort of) of last year's Canadian Championship when HFX and the Fury met in the quarter-finals. Many of the HFX players from that team have moved on, but you can bet Wanderers coach Stephen Hart hasn't forgotten how his side was eliminated from the competition by the Fury. That small bit of history should only lead to an even more heightened atmosphere when Atlético Ottawa hosts the Wanderers in their home opener.
Continue reading...