---
There's never been a question about Matt Silva's work ethic, his commitment and his professionalism. None of that was questioned during last year's abbreviated Island Games with Valour FC or the season before that with York9. And definitely not during his days as a No. 1 goalkeeper in Sweden and at the start of his professional career in The Philippines.
Silva was re-signed by Valour last week
, an indication they value the skillset of the 29-year-old, even though he didn't play a minute for them last season while backing up James Pantemis. But with Pantemis having signed a new contract with CF Montreal of the MLS, what Silva wants more than ever is the chance to compete for regular work in the Valour net in 2021. "Two years of not playing definitely makes you hungry, hungrier than you thought you were," Silva told CanPL.ca. "The goal is to get out of the No. 2 role. It's been new for me and, obviously, I don't enjoy it… everyone wants to play. "I see an opportunity to get in there that I didn't see before. That's why it holds a lot of value to me for them re-signing me without playing a game. At the moment, no other keeper is signed except the U SPORTS draft pick (Yuba-Rayene Yesli). "So, in my mind they're signing me as the goalkeeper to take the No. 1 spot. I think I deserve it and I've worked hard enough to prove that to them. "I can't say anything more than I'm ready." Valour FC coach Rob Gale isn't ready to anoint Silva as his No. 1 stopper just yet, but he does provide more than an experienced option for the club as the 2021 roster is put together. "There's a few very talented potential No. 1 goalies still not committed that we're talking to as well," Gale said. "But we wanted to make sure we had one No. 1 in, and we do now with Matt. We trust him and love his character. We're keeping our options open, but we're likely to bring in one more and have a look at them in camp and have Rayene as the U SPORTS option. "Matt showed a real maturity in a leadership role, especially in his position. The backup goalkeeper is the worst position, honestly, because you're relying on the No. 1 getting injured, especially in a short tournament format. But he was part of our leadership group, he showed great camaraderie with his teammates and never dropped a beat in his training and everything else. "The other part is after watching him in training we had no problem if James had gone down in putting him in there. He demonstrated in training with his shot-stopping abilities and his qualities inside the goal area and his presence that he is ready to step up and be a No. 1. This year he'll competing for that No. 1 spot for sure and try to prove he can be the main man."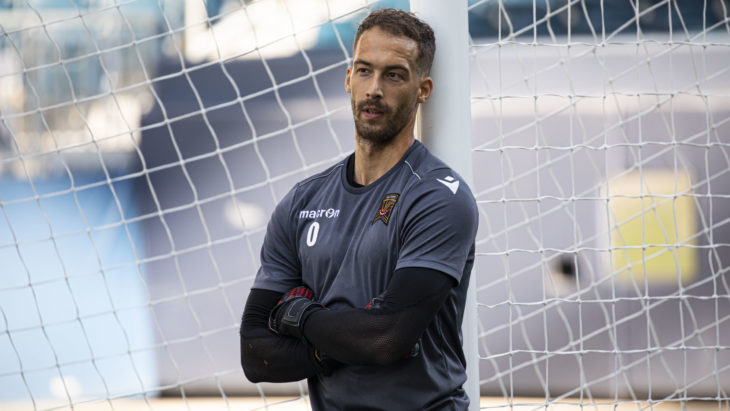 Silva, his girlfriend and their dog relocated to Vancouver after the Island Games. He has worked with the Simon Fraser goalkeeper coach and the national women's team strength coach during his time on the west coast and has been busy training while doing some long-distance estimating work for a metal fabrication company owned by a friend in Brampton, Ont. – his hometown. Critical now in his career is to get some minutes, hopefully throughout a regular CPL season. Limited to just one game in 2019 with York9 FC because of injuries, the thought of starting anew again did admittedly enter his mind. But there was also a lot to like about his experience with Valour – as shortened as everything was in 2020. "A lot went into the decision to return," he said. "Obviously, I didn't get to play in any matches last year and that was something that factored into my mind. It was difficult with it being such a short season, but (Valour) is somewhere where I know the players, I know the coaches and I feel comfortable. I felt like the past two years the decision was always about a fresh start. It was a fresh start with York 9 and a new set of eyes. Going to Winnipeg last year was a fresh start and a new set of eyes. "So this time I was thinking about going back to a place where it wasn't a new set of eyes, but somewhere the people knew me and what I bring on and off the field. I feel like that could possibly give me a leg up, or at least have me more comfortable in the situation. I don't have start over and learn everybody's name, or learn the city and directions. Those things go into making you feel more comfortable so, ideally, you hit the ground running. Maybe that gives me a bit of an advantage. "I felt like my contribution to the team – even though it wasn't on the field in a game – was quite large," he added. "I'm hoping that could benefit me with a return back to Valour."
Continue reading...