---
Final Score: Pacific FC 2-1 Forge FC Goalscorers: Diaz 5', Didic 56'; Achinioti-Jonsson 89' Game of the 2022 season: 4 CPL match: 255 ​
---
Match in a minute or less: ​
Pacific FC kicked off their North Star Shield title defence on a high note at Starlight Stadium on Sunday, defeating Forge 2-1 in a 2021 Finals rematch. And in front of their home fans, they gave them a show to remember right from the start, storming out to an early lead via Alejandro Díaz, before Amer Didic made it two in the second half. Forge would make things interesting at the end, however, as Alexander Achinioti-Jönsson scored right at the death to give his team a late lifeline, but Pacific would do well to hold on from there, allowing them to walk away with all 3 points.
Three Observations:​
Title rematch yields intense performance from both sides​
In a sense, both teams just picked things up where they left off 126 days ago in that final. Despite it being both teams' first CPL matches of the year, with it being Pacific's first competitive match since that final, while Forge was playing just their third competitive match since then, they both came out with all sorts of intensity, making for an intense matchup. "I talked to the team about using the energy on both sides, in a way," Forge head coach, Bobby Smyrniotis, said afterwards. "We want to build off of what we did last year," Pacific head coach, James Merriman, added. "And there've been a lot of conversations during the offseason about how we would respond, so it's something we talked about, we wanted to start right, we wanted to come out, bright, energetic and on the front foot." Because of that, you could almost feel that there was something extra in the air as soon as they took the field. And through that, they were able to combine for a match befitting of the 'ComeOn! Game of the Week' distinction that had been placed upon it, as neither team wasted any time in diving headfirst into this campaign. From a lot of crisp passes, to lots of hard 50/50 challenges, you could've easily thought that this was a week 14 match, not a week 1 one. Knowing that they couldn't afford to give even an inch to their opposing number, both sides were tight, organized and ready for battle, and as a result, it led to a competitive game. But that also shows why these two teams found themselves at the top of the mountain at the end of 2021. Both teams take a lot of pride in how they prepare themselves for these sorts of games, ensuring that they come out strong each time that they take the field, allowing them to grow throughout the campaign. And if this first match is to be any indication, they have no plans on slowing down this season. "It was pretty good," Diaz said. "And we have to keep working to get to that high level that we want to still keep building to." "This was just game one," Achinioti-Jonsson added. "We'll keep going from here."
New-look Pacific back 4 puts up big performance at both ends ​
In 2021, while their offence would often steal the headlines for Pacific FC in their title-winning season, there was no doubt that their defence was an underrated pillar of how they tried to play en route to that championship last campaign. Because of that, there were all sorts of questions that were asked of them this offseason, as they watched defensive stalwarts, centre back Lukas MacNaughton and full back Kadin Chung, depart for MLS's Toronto FC. Having been with Pacific since their first season, they'd become integral parts of that backline, proving their worth as some of the best defenders in the league, meaning that their departures left a big hole in the backline. But for Pacific, they then stepped up and replaced the outgoing pair with two incoming CPL veterans -- centre-back Amer Didic, formerly of FC Edmonton, and fullback Nathan Mavila, formerly of Cavalry FC, giving them two names who they felt could fill the void of MacNaughton and Chung. And if the first match is to be any indication, their assessment appears to be a pretty valid one, too. Slotting in Pacific's back four in their 4-2-3-1, sitting alongside centre back Thomas Meilleur-Giguère, and right back, Kunle Dada-Luke, they showed great chemistry in just their first game as a group, making life a lot easier for Callum Irving in the Pacific goal. As a result, they were seemingly everywhere on Sunday, making several key defensive interventions, lots of them being big ones. Because of that, they were able to keep Forge to just 2 shots on target, doing a strong job of making their box a fortress, overall making it a frustrating night for their opponents. Plus, they didn't just limit themselves to making things happen defensively, either, as they also got quite involved offensively, as well. From Dada-Luke and Mavila's constant overlapping threat on the flanks, to Didic's and Meilleur-Giguère's passing ability, they ensured that Pacific could really play back-to-front soccer. So if anything, it was only fitting when Didic got on the end of that Marco Bustos cross in the second half on what would eventually stand as the game-winner, as it just highlighted the sort of impact that the Pacific backline had on the afternoon. Against a Forge side loaded with all sorts of offensive talent, even despite some of the absences that they were dealing with, they came out on the right end of a lot of the key battles, paving the way for the victory. Had it not been for the gritty performances of that back 4, it might've been hard for Pacific's dangerous front four of Alejandro Diaz, Josh Heard, Manny Aparicio and Bustos to influence the game as they did, further highlighting how important those defensive performances were. Considering that Pacific held just 35.6% of possession, it could've been a long night had they not been up to task, but that just shows why they have full confidence in their new-look crew as they get set for what lies ahead for them this season. "I'm happy for them," Merriman said of that back four. "It's a new back four, but I thought they played very well as a four, a unit today, so it's great to see."
Forge finds a lot of possession, but goals prove to be hard to come by​
Despite finding themselves in a hostile away environment, Forge did something that you often don't see against Pacific - control large patches of the game. Finishing with 64.4% of possession, they did well to keep the ball and move it around the pitch, a strong pillar of their game. Playing in a 4-3-3 that sometimes even shifted into a 3-5-2 in possession, they did a great job of creating triangles all over the pitch, especially in wide areas, allowing them to get into some decent possession. But unfortunately for them, they just couldn't find a way to turn that possession into quality chances, making for a frustrating evening. Credit has to go to Pacific's defence, no doubt, but considering that all Forge had to show for their possession was 1.19 Expected Goals (xG) from 12 shots, they'll feel that they could've made more happen in the final third, especially in open play.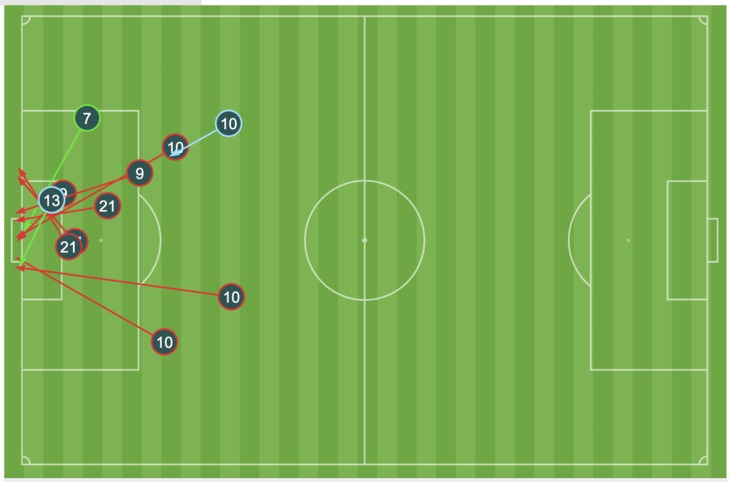 With it being early in the season, however, and missing two key finishers in striker Emery Welshman and winger Tristan Borges, they'll feel that can be solved with time, especially as they continue to grow. Having controlled the ball as they did, that's the first step required towards creating more goals, so now their attention will just have to turn to making the most of that, both in terms of generating those chances, and then finishing them. And seeing that they were able to grab a late goal, that seems to be something that they're already taking a step towards, giving them hope that the goals will start flowing in as the season goes on. "There are a lot of positives," Smyrniotis noted. "I think we were good for the majority of the matches, there were just a couple of lapses, and games come down to details." "We played well in a lot of good moments," Achinioti-Jonsson added. "We had a lot of good chances, but in the last third it just wasn't our day, really."
CanPL.Ca Player of the Match​
Amer Didic, Pacific FC
From some big interventions defensively, to scoring the winner at the other end, Didic made his presence felt at both ends, proving to be a key catalyst in Pacific's ability to grab all 3 points in this game.
What's next?​
Forge FC will take on Cavalry FC in their home opener on Saturday, April 16th, at Tim Hortons Field (4 p.m ET/2 p.m. MT). Pacific FC, meanwhile, will host Valour FC at Starlight Stadium on Sunday, April 17th (1 p.m. PT/3 p.m CT). Watch all matches live on
OneSoccer.
In addition to its website and app, OneSoccer is now available on TELUS channel 980 and on Fubo TV. Call your local cable provider to ask for OneSoccer today.
Continue reading...