---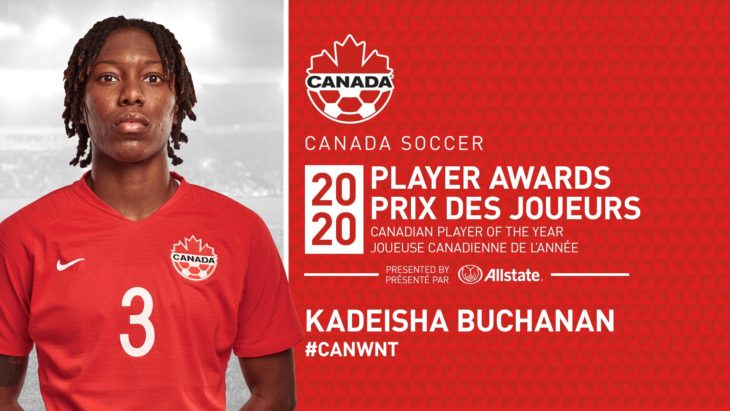 ---
Kadesha Buchanan capped off a fantastic 2020 on Friday by being named the Canadian player of the year award presented by Allstate. Buchanan, a 25-year-old native of Brampton, Ont., finished ahead of runner-up Christine Sinclair, and top-five finishers Janine Beckie, Ashley Lawrence and Jordyn Huitema in voting by Canadian media and coaches. Buchanan has now won this award three times in the past six years after a 2020 campaign that saw her help Canada qualify for the Tokyo Olympic Games and win three trophies with French club Olympique Lyonnais, including the UEFA Women's Champions League. The stalwart defender was named to the Best XI at the 2020 Concacaf Olympic qualifying tournament. She played in six games for Canada this year, logging 525 minutes of playing time and collecting an assist. At club level, Buchanan won her fourth UEFA Women's Champions League title, her fourth French league title, and her third Coupe de France. She was also shortlisted for the UEFA Team of the Year.
---
RELATED READING:
Alphonso Davies named 2020 Canadian player of the year award presented by Allstate
---
"For Kadeisha to have played an integral part in her fourth UEFA Champions League speaks to one of her many accomplishments and contributions to both club and country in which she should be very proud," Canadian women's coach Bev Priestman said in a media release. "It has been a fantastic season for Kadeisha and it has been great to see her performances and the goals she has scored, too. "She has world-class qualities that any country would be proud to have and she is a highly-valued member of the squad both on and off the pitch, so we are thrilled for her personally in receiving this well-deserved recognition. As a team, to know you have a centre back that opposing forwards hate to play against, it fills the group with confidence." In total, Buchanan has four goals and three assists in 101 appearances for Canada (96 as a starter) since making her national team debut in 2013 as a 17-year-old. The Canadian women's player of the year award was first handed out in 1994, with the inaugural award going to Charmaine Hooper. Other winners over the years have included Ashley Lawrence, Kadeisha Buchanan, Andrea Neil, Gerri Donnelly, Janine Helland and Silvana Burtini. Earlier this week, Tajon Buchanan and Jade Rose won the Canadian youth international players of the year honours, while
Alphonso Davies was named the men's player of the year
.
Continue reading...