---
The Gatorade Team of the Week for the ninth week of the Canadian Premier League action in 2021, brought to you by Kristian Jack and OneSoccer's Oliver Platt.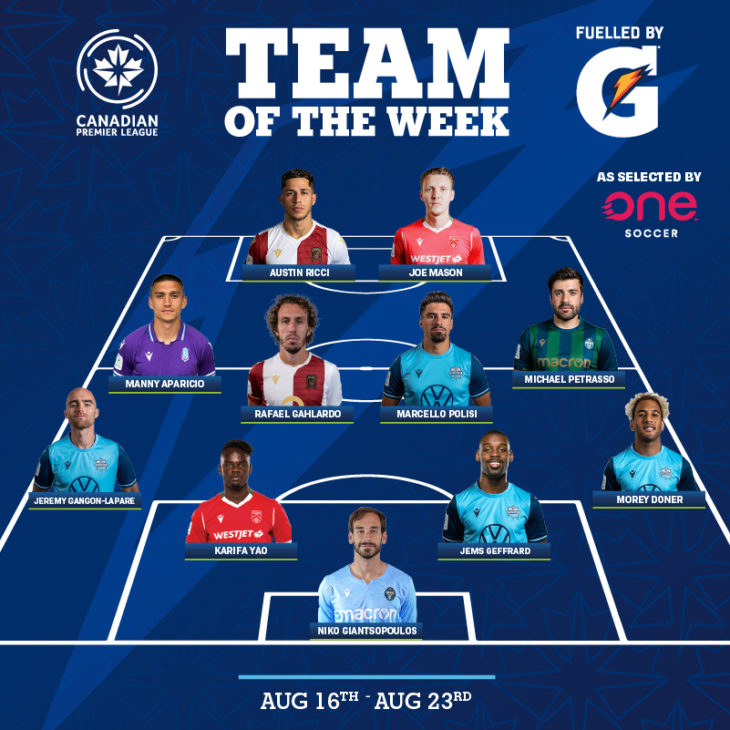 Niko Giantsopoulos (York United FC)
York's stopper returns to the team of the week following an outstanding display in the Nine Stripes' midweek draw in Ottawa. Giantsopoulos was rested for the team's 5-0 win over Master's FA in Saturday's Canadian Championship clash but in league play looks to be winning the number one spot over Nathan Ingham, following three impressive displays since Ingham was hurt during the first half at Forge back on August 4th. This save on Malcolm Shaw is a contender for save of the season, showing fantastic reflexes and footwork to be ready to react to the header.
Right Back​
Morey Doner (HFX Wanderers)
In a fantastic collective effort from the team it was hard to point out individuals but Doner quite rightly earned the man-of-the-match honours on the One Soccer broadcast for his work on the right flank against Forge, topped off by a dynamic run that led to the game's opening goal from Alex Marshall. Doner, who was very good in their midweek win over AS Blainville as well, enjoyed more freedom in attack in a different system implemented by boss Stephen Hart and his adversary on that side, Kwame Awuah, admitted that the shape and Doner's strengths made a difference: "Their 5-3-2 took away their width from our team, so I tried to play more inverted to drag Morey out of that space and create width outside for our wingers." Unfortunately, for Doner and HFX, Awuah stayed wide in the 96th minute to score a goal he admitted was a shot and deny Halifax the three points the performance warranted.
Centre Back​
Jems Geffrard (HFX Wanderers)
The Haitian put in a commanding performance in the middle of a back three for Halifax at Tim Hortons Field on Sunday, showing exactly what the team has missed in his absence. In just his second league start of the season - following time away at the Gold Cup - the 26-year-old led by example next to the equally impressive Peter Schaale and Kareem Sow (unfortunate to miss out on the team this week).
Karifa Yao (Cavalry FC)
Few Cavalry games go by these days without true impressions being left on you when it comes to analyzing their players and in Yao they have a standout young Canadian defender who continues to impress in any role he is given. After denying space to arguably the league's most dynamic player in Marco Bustos, in an unfamiliar left back role, two weeks ago, Yao was tremendous against Pacific again this week leading the team in tackles, clearances and blocks in a formidable defence featuring fellow standouts David Norman Jr, Daan Klomp and Mo Farsi.
Left Back​
Jérémy Gagnon-Laparé (HFX Wanderers FC)
Much of the post-match discussion around the 26-year-old's performance at Forge on Sunday was around a glorious opportunity he missed in the second half to double his side's lead, but as the ball rose into the Hamilton sky for a goal kick he was immediately back and turning his attention to his positional responsibilities that he executed brilliantly for Stephen Hart all afternoon. Gagnon-Laparé finished the game at left-back and played there in the midweek win over AS Blainville in the Canadian Championship, however, it was his position in an advanced wide left position, inside a narrow midfield box of four, that prevented Kyle Bekker from getting on the ball and helped execute a masterful gameplan from Hart. He also completed 42 of 44 pass attempts for a team-high 95.5% pass completion rate.
Midfield​
Michael Petrasso (York United)
It hasn't been the smoothest of starts to the season for York's best player but now free of injury issues he is starting to show more for his team at a crucial stage of the season. Petrasso was good in Ottawa midweek but great on the weekend in their Canadian Championship clash, running the show against Master's FA, showing
signs that he can be the club's talisman
and win games for them in their pursuit of a playoff spot, completing seven key passes and ending the game with two assists.
Marcello Polisi (HFX Wanderers)
A fourth Wanderers player earns a Team of the Week spot after an excellent performance at Forge. In just his sixth start for Halifax in the Canadian Premier League, the 24-year-old Canadian played like a veteran as a defensive midfielder against Forge, bringing fantastic energy, positional discipline and a workrate that set the tone for Stephen Hart's side. Polisi let very few attacks come through the middle, alongside the excellent Andre Rampersad, but was also calm and composed on the ball to start key transition attacks, leading his team in passes (52) and pass attempts (61).
Rafael Galhardo (Valour FC)
It may have taken nine weeks but anyone who has followed the career of Galhardo will not be surprised to see the Brazilian finally showing up in the Team of the Week. Long spells of quarantine and a long battle to get truly match fit has forced Rob Gale to be patient when deploying the 29-year-old (just four starts through thirteen league matches) and when he has been picked he is often shown his versatility in different positions. In Ottawa on Saturday night he was a joy to watch leading the team in key passes and shots and bringing real technical quality to a balanced midfield that also featured Moses Dyer and Raphael Ohin. If Gale can keep that trio fit they have the potential to be a real triple threat that can win a lot of midfield battles in the Canadian Premier League.
Manny Aparicio (Pacific FC)
Since switching York United for Pacific FC this offseason, Manny Aparicio hasn't really been able to show off his full ability yet as injuries have limited him to just six matches. At his best, Aparicio can be one of the best midfielders in the CPL, and reminded us exactly why at Valour. An excellent passer, Aparicio's skillset was on full display as Pacific's main creative midfielder. He tied for the team lead with two key passes, including an assist on The Tridents' second goal with a driven, low cross that Terran Campbell swept home from a few yards out. He also played a major part in Pacific's opener, taking advantage of a brilliant run from Josh Heard. Aparicio also made a team-leading three tackles in an impressive display. "Manny is an excellent player, and we knew we were getting one of the most creative, hardworking midfielders, and a very honest guy," said Pacific FC head coach Pa-Modou Kah after the match. "He wants to win, and that's one of the reasons why he chose to come to us. He's finding his groove and today's a true testament to his hard work and putting in the effort day-in and day-out. "He's been a little bit hampered with injuries, but we are very happy to have him here — what he brings on the pitch, but also great professionalism on and off the pitch, which is very huge for us as a football club. Having persons and players like this is huge."
Strikers​
Joe Mason (Cavalry FC)
After coming to the Canadian Premier League with a high pedigree, having spent most of his career thus far in the top three flights in England, Joe Mason was expected to do big things in Canada — and showed off some of his attacking prowess on Friday night. Mason scored both of Cavalry's goals in the 2-1 victory, rounding Callum Irving and sliding the ball home for the opener and redirecting a low cross into the net to double the lead a few minutes later. It was the second match in a row that Mason had found the back of the net, having also scored the winning goal against FC Edmonton in the Canadian Championship — and is now up to four goals in seven matches in all competitions in total. The 30-year-old Englishman comes alive in the penalty area and his quick feet and movement make him arguably the best number in this league and we have still not seen the best of him or his team yet in 2021.
Austin Ricci (Valour FC)
Sometimes cup football can arrive at the right time and with Valour FC heading to Ottawa this past weekend without a goal in three games and without a win in six they needed a spark and they found it against Atlético. They played their part in a fantastic, wide-open match that presented them with an opportunity to play a bit more free and attack the pursuit of a single knock-out match. On the hour mark, however, they were still tied 1-1, despite impressing, until Austin Ricci stepped up to put home two goals in three minutes and win the tie. Ricci had waited over eight hours (515 minutes in total) since his last goal and then waited just two minutes to claim another and complete his second brace of the season.
Continue reading...