---
The Gatorade Team of the Week for the sixth week of the Canadian Premier League action in 2021, brought to you by Kristian Jack and OneSoccer's Oliver Platt.
​
Goalkeeper​
Callum Irving (Pacific FC)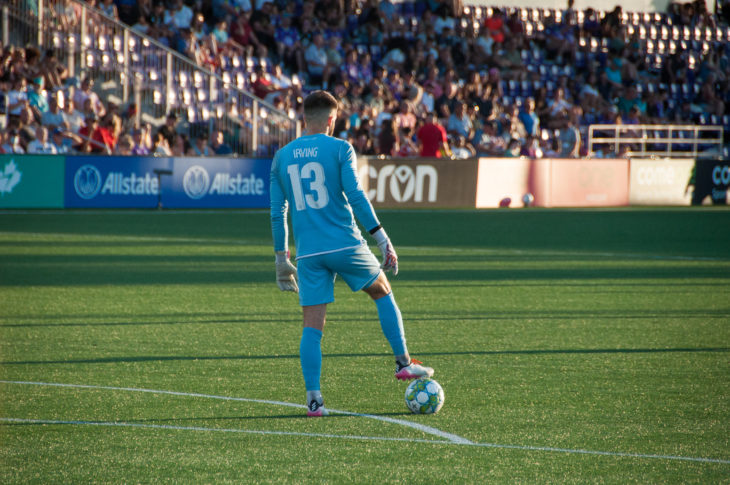 In an entertaining match at Starlight Stadium that saw the teams combine for 22 shots, home goalkeeper Callum Irving was impressive once again, making four saves and completing more successful passes than many outfield players, including the likes of Jamar Dixon, Manny Aparicio and Marco Bustos. The 28-year-old continues to rely on his two centre-backs, when in possession, who are comfortable on the ball and his passing range, which allows them to start attacks at key areas thanks to his technique, remains a vital part of Pacific's play.
Right Back​
Morey Doner (HFX Wanderers)
Second straight appearance at right back for one of the league's finest full backs after another stellar outing. There is something quite assuring about watching this Halifax team at the moment. At all stages of the game, even behind early to a set-piece goal, they look confident and mature in their decision-making. In Doner and Jake Ruby they had full backs who were excellent in a 2-1 win over Atlético Ottawa with the pair each gaining possession eight times (a team-high).
Centre Back​
Amer Didic (FC Edmonton)
There has been some social media clamour for Didic's inclusion on the Gatorade Team of the Week recently and the Eddies' fans will not be surprised to see him named this week after a monumental performance at the heart of the FC Edmonton defence in a 3-1 win over Valour FC. Didic was brilliant at the back, leading and reading the game with eight clearances, as well as getting his first goal of the season, when his thumping header from Fraser Aird's corner crashed into Jonathan Sirois' net. Alan Koch has worked really hard on this team's identity without the ball and in Didic he has a real tone-setter. "He's a fantastic footballer," Edmonton coach Koch said of Didic specifically postmatch. "You mention long passes, but he can pass short, middle range, he can spray the ball all over the place. Whatever we need him to do, because he has that in his toolkit."
Abdou Samake (Pacific FC)
Another debutant centre-back on the Gatorade Team of the Week and another one - like Didic - who fans will have no complaints over if they watched how comfortable he was in Friday evening's Pacific FC home opener. Cavalry FC came into the match in great form and always present attacking challenges, but the former Michigan Wolverine was commanding again next to the impressive Lukas MacNaughton. Still only 24, Samake is starting to cement himself as someone that Pa-Modou Kah can rely on regularly -as he continues to deputize for the injured Thomas Meilleur-Giguere - and against Tommy Wheeldon Jr's men he led the team in interceptions and clearances, while completing close to 92% of his passes (57/62).
Left Back​
Kwame Awuah (Forge FC)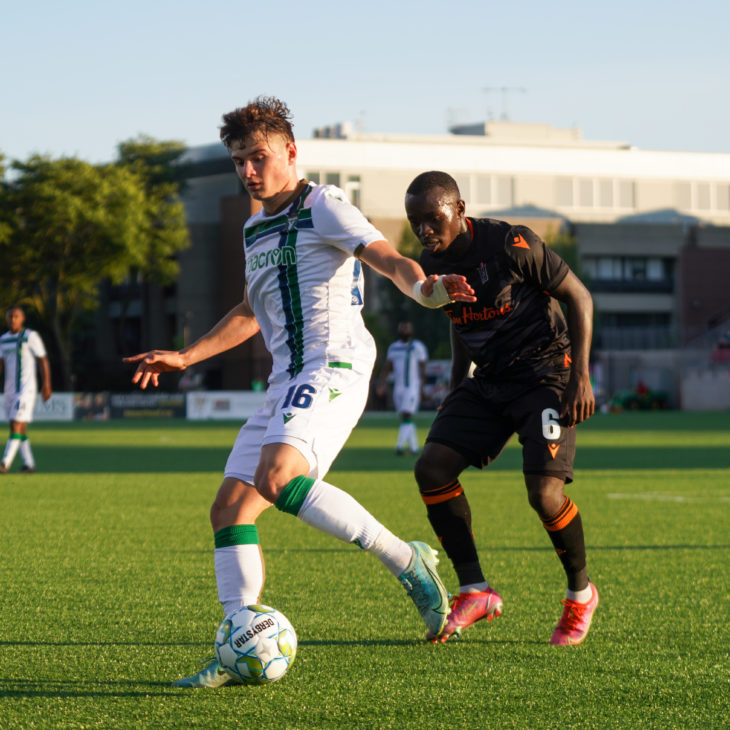 It is hard to fly on the radar when you play for the champions, but Awuah continues to put in brilliant performances each week without too much recognition. Thankfully, he has the Gatorade Team of the Week to once again celebrate another tremendous effort on the left flank for Bobby Smyrniotis. Awuah wasted no time to spoil York United's party in their home opener on Friday evening with a terrific cross in the fourth minute to set up the only goal of the game, scored by Mo Babouli. The 25-year-old led his team in passes, total passes in the opposition half, successful crosses, shots and assists.
Central Midfield​
Hunter Gorskie (FC Edmonton)
This team wouldn't have felt right having Didic in it without Gorskie. As Charlie O'Connor-Clarke pointed
out in his match analysis
, the American's role in central midfield, as opposed to centre-back where is more featured, was a direct reason for FC Edmonton's dominance over Valour FC at Clarke Stadium. Gorskie has a good understanding of the game and compliments Ramon Soria well in midfield and when he has to release the ball he does so with a purpose and understanding of wanting his team to cherish it and maintain possession.
Elimane Cisse (Forge FC)
Another week and another midfielder from the champions in our team. Cisse, much like teammate Awuah, seems comfortable in the shadows of stars like Kyle Bekker, Tristan Borges and others, but when you watch him he isn't static enough to be in anyone's shadow. Cisse's engine drives Forge forward and as his touch map (below) shows this is an all-around midfielder who covers ground like few others at this level. Continues to thrive in a partnership with Bekker inside a double-pivot midfield that do everything three midfielders can do.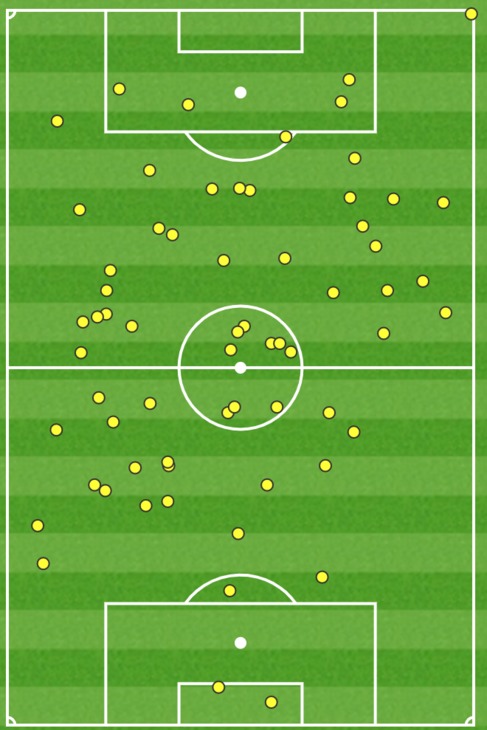 Joao Morelli (HFX Wanderers)
For all of Halifax's admirable strengths you still need a talisman to make a difference and their main man found the right time to step up in front of a soaked home crowd on a holiday Monday afternoon. With Akeem Garcia still struggling to score, the onus has fallen on the Brazilian to help be a playmaker and finisher for Stephen Hart's side and against Atlético Ottawa he thrived in front of home fans, scoring two goals in a game for the second time this season. Morelli was a menace in attack with seven shots (no one else had more than two) but it will be his winning goal that will be fondly remembered by the crowd once they got home and dry.
Forwards​
Marco Bustos (Pacific FC)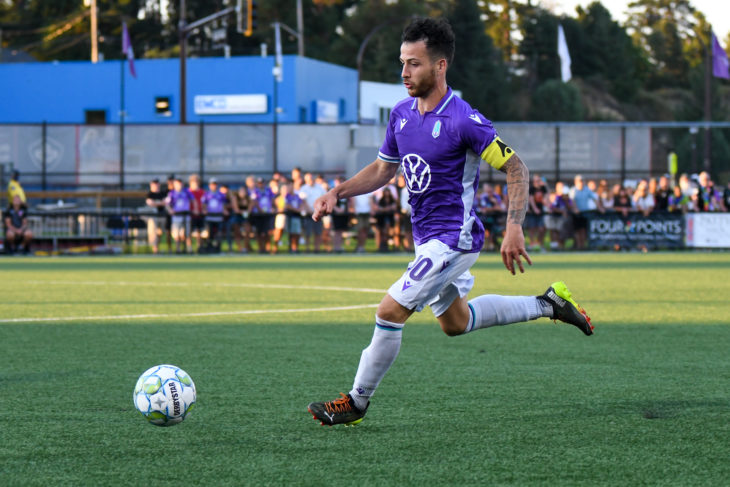 Bustos played like a man possessed on Friday evening against Cavalry FC. At times it looked like he was playing a different game, taking on players, raising the tempo of the match that no one else could get close to, and showing quick feet and thinking, which helped him after just 124 seconds when he sent the home crowd wild with the game's opening goal. The 25-year-old finished the match with a goal and an assist and continued to thrive in an inside right position as his touch map shows.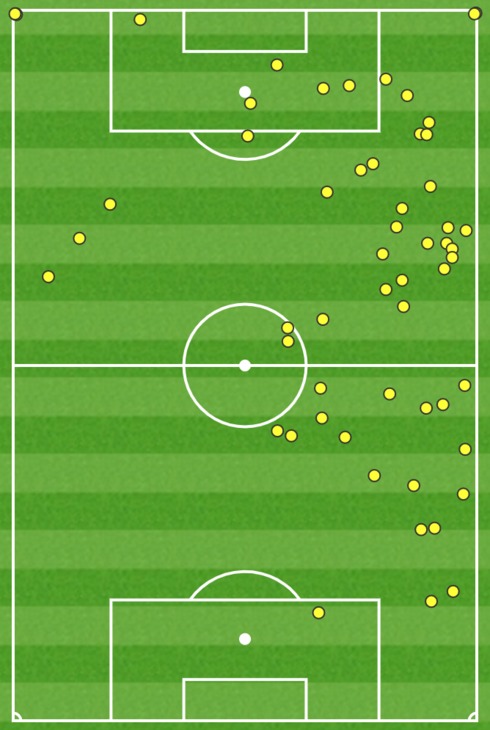 Corey Bent (HFX Wanderers)
Never worry about Englishmen in the rain. Bent felt right at home as a blustery day at the Wanderers Grounds was just like an average day in his hometown of Preston, Lancashire and this was a showing from the winger that any Preston North End fan would have been happy with. Bent, who struggled with injury in Winnipeg and at times was asked to play in a deeper position to cover for all of Halifax's injuries, thrived further forward in this match, producing nine crosses - seven from open play - that caused major problems for Atlético Ottawa. HFX boss Stephen Hart had particular praise for Bent postmatch, who was excellent on the wing: "He's one of those players that doesn't get the recognition, but he will do anything for the team and that's really important. Today he got to play his favourite position, so to speak, and he looked like he enjoyed himself."
Striker​
Tobias Warschewski (FC Edmonton)
Alan Koch has a gem on his hands here. The 23-year-old German is such a unique profile of a player in the Canadian Premier League that teams continually struggle to handle him. He deservedly gets a place in the Gatorade Team of the Week thanks to an inspiring performance where he scored his first goal of the season against Valour FC (he has already had multiple goals disallowed this season). His goal was important for him and his team - the first time both he and strike partner Easton Ongaro have scored in the same game this season - but it was his overall impact once again that helped Koch's side secure all three points. Dortmund-born Warschewski won 13 (a game-high) of a combined 24 duels won by the front two that allows FC Edmonton to go direct when they need to but this is far more than a man who is dominate in the air, he has soft feet for a player with such stature and holds the ball up really well to allow the Eddies to play off and sustain attacks.
Continue reading...