---
The Gatorade Team of the Week for the 14th week of the Canadian Premier League action in 2021, brought to you by Kristian Jack.
​
Goalkeeper​
Dylon Powley (Atlético Ottawa)
It was a special week for goalkeepers in the Canadian Premier League. Triston Henry made some key saves against Pacific FC on Saturday evening and preserved a clean sheet in Concacaf League play, Nathan Ingham made a series of tremendous saves in the second half to secure a win over Valour FC but there was only one clear winner this week. Dylon Powley was close last week to being named the best goalkeeper and secures the selection after a fantastic display against Cavalry FC. The 25-year-old made five key saves at TD Place Stadium but nothing was close to being better than this double save against Sergio Camargo from the spot.
Defenders​
Drew Beckie (Atlético Ottawa)
The story of the weekend was told in Ottawa where their captain's comeback from the hospital to the pitch was complete on Saturday after a month out with health concerns. The former Ottawa Fury defender had been sidelined for much of his club's nine-match winless run due to a complication with a COVID-19 exposure earlier this year. Beckie, who has dealt with heart complications previously, wasn't sure he'd ever been able to play football again: "There are things that happen in life that you don't have control over," Beckie recalled after the match, discussing his previous hospitalization. "I was cleared to play and trained for a couple of days so my fitness wasn't great but I got through it, and the guys were great and we got the results." After the match, coach Mista spared nothing in his praise of the veteran, who kept Ottawa's backline rigid in the face of Cavalry's attack. "He makes the team better," Mista said. "When Drew plays the team has a different character. I'm so happy to have players like Drew on my team."
Alexander Achinioti-Jonsson (Forge FC)
The Stylish Swede gets another selection in the team of the week after a fantastic display against Pacific FC. Achinioti-Jonsson's football intelligence puts him amongst an elite group in this league and is so important to Forge FC because he brings real tactical versatility to the group. He knows when to drop deep and inside a back three and recognizes when to step up to combine with others and take away key space for the attackers. Against a tough Pacific FC team he was tied for the team lead in tackles and clearances against the league leaders alongside Daniel Krutzen.
Daniel Krutzen (Forge FC)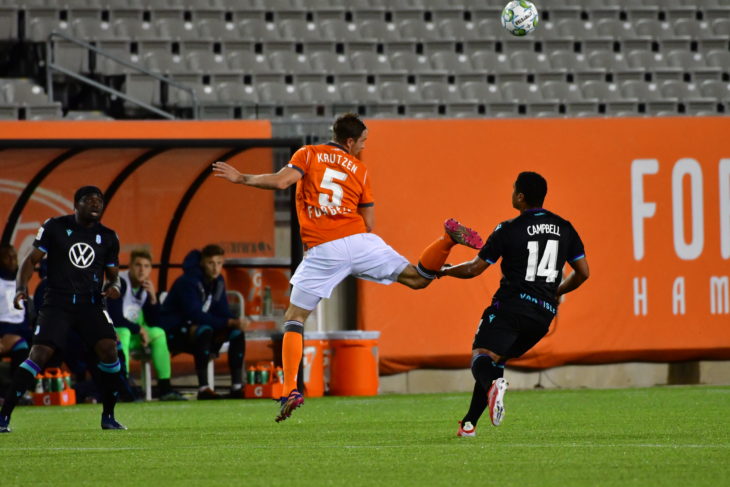 Here comes Forge. It is no coincidence that the two-time reigning champions are finding another gear now that their defensive talisman is back healthy and playing regularly again. The 25-year-old Belgian was excellent against Pacific FC, who struggled to get behind him regularly due to how well the defender reads the game. Krutzen is also very good on the ball, playing a vital role in the tempo of the match, completing 20 more passes than any other teammate (54 of 65), and crucially knowing when to play a forward pass through pressure when opponents' attempt to unbalance his side.
Diyaeddine Abzi (York United)
Another week, another selection for Abzi, who York boss Jimmy Brennan
was full of praise
for again this weekend. Kwame Awuah was very good for Forge FC, but few in this position are coming anywhere near close to the level displayed by the York left-back. Abzi was good at times in difficult conditions against Toronto FC midweek and was vital in the second half - once again - on Sunday when he helped his team gather much-needed momentum to come from a goal down against Valour FC and secure another vital three points. Abzi ended the day with a key assist while winning three tackles, four interceptions and leading all players with a game-high 67 touches. Just another day at the office and with even better movement in front of him it is clear even another level is possible for one of the star's of the 2021 season.
Midfielders​
Alessandro Hojabrpour (Pacific FC)
Quickly becoming one of the league's most underrated talents, the 21-year-old Burnaby-born defensive midfielder had another impressive week in two matches that brought very different emotions to Pa-Modou Kah's men. Pacific FC's win at Cavalry FC in the Canadian Championship quarter-final came through a real collective team effort yet through it all Hojabrpour was immense at Spruce Meadows, leading his team with six tackles won, and repeated that showing at Tim Hortons Field on Saturday night when he stood tall in a game played at a real high standard. You could make the case that a year ago a match played at that tempo, with both teams aggressively pressing each other, could have been too much for Hojabrpour but, alongside the impressive Jamar Dixon, he was more than good enough on a night where they narrowly fell to Forge FC once again.
Andre Rampersad (HFX Wanderers)
Another central midfielder who played two excellent games at the base of his team's midfield and showed real leadership qualities for his manager on the pitch. Rampersad was very good in a tough match against CF Montreal in midweek and didn't show many signs of fatigue just three days later as he led his team to an important clean sheet against FC Edmonton at the Wanderers Grounds. Rampersad is almost as important to Stephen Hart as Joao Morelli. On a team that is not efficient in front of goal and plays a lot of close games it is the 26-year-old native of Trinidad and Tobago that recognizes key moments to step up, winning the ball and starting transitions. Rampersad gained possession a remarkable 14 times against the Eddies.
Kyle Bekker (Forge FC)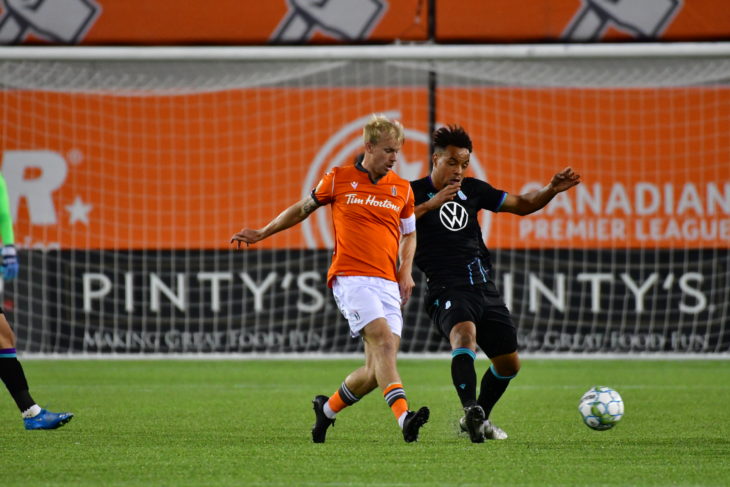 The league's most intelligent player was marvellous against Pacific (again) on Saturday night. Bekker's ability to read a game tactically and understand where he needs to be on the pitch is unrivalled across the league and on this night he understood when he needed to play higher to prevent Pacific building from the back and, subsequently, pushing them a little deeper in defence. When the stakes are higher he shines the brightest and although Pacific FC remain the league leaders they will know they have to find a way to beat Bekker if they want to lift the silverware in November.
Forwards​
Brian Wright (Atlético Ottawa)
Wright was a menace against Cavalry FC on Saturday with his directness and pace. In a game where his team didn't dominate the ball or possession it was the moments that Wright really needed to wait patiently for and then deliver. It hasn't always gone right for him in front of goal recently but this clinical finish (below) shows just how confident he was after he had also caused problems by winning a key penalty for his team, converted by Malcolm Shaw, earlier in the game.
Lowell Wright (York United)
Still just 18 years old, Lowell Wright has continued to take big strides with Jimmy Brennan's York United side in 2021, and has been getting better as the season has progressed. The young striker scored both of York's goals on Sunday — bringing him up to four on the season and completing his first career brace. Wright's awareness to get himself into good positions is what helped him score both goals — first making a good run to get on the end of a perfect cross from Diyaeddine Abzi, and then patiently waiting for the ball to come to him before firing home the winning goal as York took advantage of a mistake at the back. He is also a physically commanding player — it takes a lot to outmuscle the 6'0 striker, and according to his head coach, he's continuing to improve as a player and starting to use his size to his advantage. "I think Lowell is constantly improving," said Jimmy Brennan after the match. "The one big thing that we wanted to work on was his hold-up play, and being physical because he's got such a big frame on him. He's got good weight, good power, strength, and he's got to utilize that and understand how and when to use it. He's starting to really get it and grasp it."
Stefan Karajovanovic (HFX Wanderers)
It's not often an attacker gets so much praise for his defensive work, but Karajovanovic saved the result for HFX on at least two occasions with goal-line blocks (see image). He had a key role in the Wanderers' opening goal as well, managing to sneak in behind the Edmonton defence, and through all 90 minutes he worked tirelessly off the ball to take initiative in pressing.
Continue reading...