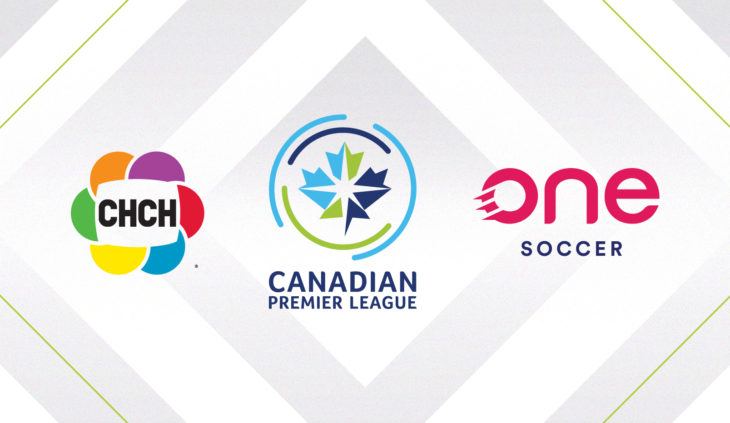 CANADIAN PREMIER LEAGUE / ISLAND GAMES SUNDAY MATCHES TO BE BROADCAST ON CHCH TV
OneSoccer partners with CHCH TV for Sunday afternoon series
August 13, 2020
–
CHCH TV
and
MEDIAPRO Canada
today announced a partnership that will see broadcast and streaming coverage of the
Canadian Premier League 2020 season
- taking place in Charlottetown, PEI and known as
The Island Games
– on CHCH platforms beginning August 16. Coverage will consist of five consecutive weeks of Sunday broadcasts, available exclusively on CHCH TV starting at 3 p.m. ET (4 p.m. AT) each week. All broadcasts will be produced by MEDIAPRO. For CPL fans in Ontario,
CHCH TV
is available to over 92% of households equipped with an
over-the-air signal, cable, or satellite
. Outside of Ontario, supporters from coast to coast can watch CPL action streamed live online at
chch.com
, or on select cable providers in major Canadian markets. The first Sunday match kicks off this week (Sunday, Aug. 16) at
3 p.m. ET (4 p.m. AT)
at UPEI Alumni Place – Turf Field as Hamilton's Forge FC and 2019 Canadian Premier League Champions take on FC Edmonton. The 2020 season will begin with an eight-club first stage where each CPL team will play each other once (28 game total first phase), with the top four clubs to the second round six-match group phase. The Island Games will be played behind closed doors in a sequestered environment at Alumni Place in Charlottetown, PEI and will see the eight clubs - Pacific FC (Vancouver Island, British Columbia), FC Edmonton (Edmonton, Alberta), Cavalry FC (Calgary, Alberta), Valour FC (Winnipeg, Manitoba), Forge FC (Hamilton, Ontario – 2019 Canadian Premier League Champion), York9 FC (York Region, Ontario), Atletico Ottawa (Ottawa, ON) and HFX Wanderers FC (Halifax, Nova Scotia) battle it out until the top two clubs remain to compete in a single-match Final to be crowned the 2020 Canadian Premier League Champion. Since there is no home-field advantage it will be a one-match Final to crown the 2020 Canadian Premier League Champion who will be awarded the North Star Shield and a 2021 CONCACAF League berth. CPL fans and supporters from coast to coast can watch the CHCH TV broadcast as follows:
Halifax
Winnipeg
Saskatchewan
Sasktel: (channel 33)
Access Communications Group (channel 149)
Edmonton & Calgary
Shaw Direct (channel 141)
Victoria
Telus Satellite (channel 218 & channel 1057 HD)
CPL live broadcast coverage on CHCH (times in ET and local respectively)
| | | |
| --- | --- | --- |
| DATE | START TIME | MATCH |
| Sunday August 16, 2020 | 3:00 p.m. ET (4:00 p.m. AT) | Forge FC vs FC Edmonton |
| Sunday August 23, 2020* | 3:00 p.m. ET (4:00 p.m. AT) | Cavalry FC vs HFX Wanderers FC |
| Sunday August 30, 2020 | 3:00 p.m. ET (4:00 p.m. AT) | Atletico Ottawa vs Forge FC |
| Sunday September 6, 2020 | 3:00 p.m. ET (4:00 p.m. AT) | Pacific FC vs FC Edmonton |
| Sunday, September 13, 2020 | TBD | |
*OneSoccer to rebroadcast the match immediately following the UEFA Champions League Final.
All matches to be broadcast LIVE on OneSoccer, the Canadian Premier League's media partner. Link to full league schedule:
www.canpl.ca/schedule
- 30 -
About CHCH
CHCH-TV started broadcasting in 1954 and is proud to be the news leader for Hamilton and the surrounding Halton and Niagara regions. CHCH produces over 24 hours of original local news programming each week. With a primetime line-up anchored by movies, news magazine shows, and hit dramas, CHCH is available to over 92% of Ontario households and is viewed by millions nationally each week. CHCH News is produced daily out of its broadcast studio located in Hamilton, Ontario.
About The Island Games
Charlottetown Prince Edward Island will be the host location for the Canadian Premier League's 2020 season.
The Island Games
will commence on Thursday, August 13 with all eight (8) Canadian Premier League Clubs participating: HFX Wanderers FC, Atlético Ottawa, York9 FC, Forge FC, Valour FC, FC Edmonton, Cavalry FC and Pacific FC. All matches will be played at the University of Prince Edward Island (UPEI) FIFA quality Turf Field.
About the Canadian Premier League
Canadian Premier League
(CPL) is Canada's professional men's soccer league that debuted on April 27, 2019. Headquartered in Toronto, ON, the Canadian Premier League features eight clubs from coast-to-coast. For updates and more information on the CPL, a league for Canadians by Canadians, visit
CanPL.ca
. Connect with us on Twitter:
@CPLsoccer
and
#CanPL
About MEDIAPRO Group
The
MEDIAPRO
Group, which recorded annual revenue of close to €2 billion in 2018, is a leader in the European audiovisual sector. With a fleet of 70 High Definition and 4K Outside Broad- cast units, the Group produces some 7,000 events around the world each year. It is currently involved in the production of 16 national soccer competitions around the world, including top-tier leagues in Spain, France, Portugal, Italy, Greece, Turkey, Kenya, Angola, Slovenia, Serbia, Colombia, Bolivia, Mexico and now Canada. Mediapro Group crews produce events for the UEFA Champions League, FIFA Confederations Cup, FIBA, Euroleague, FIFA World Cup, the Arab Games, the Africa Cup of Nations and Formula 1. In Spain,
MEDIAPRO
manages the rights to the LaLiga Santander for public establishments and was awarded a wide package of rights for the four seasons from 2020-21 to France's Ligue 1 and Ligue 2, where it is set to launch a 24/7 channel to carry live coverage of league matches. The
MEDIAPRO
Group produces more than 15 TV channels worldwide, including several specialty sports channels, such as beIN SPORTS and beIN LaLiga (in association with the beIN Media Group), Real Madrid TV and Golf Channel. With 58 offices on four continents,
MEDIAPRO
is also one of the most important creators of content in the world, with projects for HBO, Netflix, Amazon Prime Video, Turner, DirecTV, Movistar, FOX, Viacom and Televisa.
For more information:
Micki Benedetti Canadian Premier League
micki.benedetti@canpl.ca
905.466.2575
Continue reading...