---
2021 SheBelieves Cup — Match #5 Canada vs. Brazil February 24, 2021 at 4:00 p.m. ET Exploria Stadium in Orlando, Florida Watch Live: OneSoccer.ca
​
---
Fresh off its first win of the year (and its first of the Bev Priestman era), Canada will shoot for two in a row when they face Brazil on Wednesday in their final match at the 2021 SheBelieves Cup. After opening the tournament with
a tough 1-0 loss to the United States
, Canada responded by eking out
a gritty 1-0 win over Argentina
courtesy of an injury-time goal from substitute Sarah Stratigakis. Even though Canada laboured against the over-matched South Americans, Priestman heralded her team for sticking with it and pulling out the victory. "It wasn't the perfect match, and it definitely wasn't the best match I've been involved with. But overall, the group found a way to win. That's what good teams do, and the second thing is it's a clean sheet, which we have to celebrate as well," Priestman said. Brazil presents a much tougher challenge for the Canadians than Argentina, as both teams are tied for eighth in the current FIFA world rankings, and the all-time series between the two nations is dead even with eight wins apiece. Marta, a six-time winner of the FIFA world player of the year award, is on this Brazilian team, but Canada should also be leery of Debinha. A forward with the NWSL's North Carolina Courage, Debinha scored and collected an assist in Brazil's opening win over Argentina, and has been touted as the heir to Marta's throne on this Brazilian side.
---
RELATED READING:
Evelyne Viens: 'Pretty unreal' to make CanWNT debut vs. United States
---
4 THINGS TO KNOW​
Canada lacking scoring punch: Goals have been hard to come by for Canada at the SheBelieves Cup, as the Reds have only found the back of the net once through their opening two matches of the tournament. In the loss against the United States, Canada had scoring chances but squandered them, while it struggled to create opportunities in its win over ultra-defensive Argentina. Midfielder Sophie Schmidt offered this diagnosis of Canada's scoring problems: "We need to improve on our patience in building out from the back; just being a bit more patient and clinical in our turning, making sure we find our players. But then once we get forward in the attacking third, being more dangerous. We're a bit sloppy with our passes; we need to find (players') feet with the ball and then get some shots on goal."
Brazil scouting report: Since Pia Sundhage took over as coach last year, Brazil has looked far more defensively sound under the Swede, while still maintaining its attacking flair. A two-time Olympic gold medal winner as coach of the United States, Sundhage has helped Brazil become a more balanced side, a fact not lost on Canadian coach Bev Priestman who noted: "Pia has brought that element of defensive (solidity). The shape is harder to break down… They're dangerous on the counterattack, so we have to put an emphasis on competing and being hard to beat."
11-year anniversary for Desiree Scott: Canada's match vs. Brazil on Wednesday will mark 11 years to the exact date of Desiree Scott's senior team debut. Scott, a 33-year-old native of Winnipeg, played her first game for Canada on Feb. 24, 2010 when she came on as a second-half substitute against Switzerland at the Cyprus Cup tournament. The combative midfielder has gone to earn 158 caps, which means she ranks fifth in all-time appearances for the women's side, behind only Christine Sinclair (296), Diana Matheson (206), Sophie Schmidt (201) and retired defender Rhian Wilkinson (181). Scott made her 120th start for Canada in the game against the U.S., and was an unused substitute versus Argentina.
How the tournament works: The team with the most points at the end of the round-robin wins the tournament. The first tiebreaker is overall goal difference, followed by most goals scored, and then head-to-head results. The U.S. tops the standings with six points. Brazil and Canada are tied for second with three points, but the South Americans have the first two tiebreakers (+1 goal difference and four goals, compared to a 0 goal difference and 1 goal for Canada). Argentina (no points) is in last place.
WHAT THEY'RE SAYING​
"Going into this Brazil game, I'd like to see a mindset where we really take it to Brazil... We have to take that game to Brazil, and do what we can with the people available to us." - Canadian coach Bev Priestman
"We've faced (Brazil) so many times; we know each other very, very well… It's going to be a test of where we stand as a team in this year. We're going to get our (scoring) chances and they're going to get some chances, so it's going to be a good test. They're a great side, very tactically smart, amazing with their feet, and I think it's going to be a battle." - Canadian midfielder Sophie Schmidt
"I think we're going to be ready for Brazil and score some goals." - Canadian forward Evelyne Viens
ALL-TIME SERIES Canada wins: 8 || Brazil wins: 8 || Draws: 7

PREVIOUS MEETING March 10, 2020: Canada 2, Brazil 2​
In its previous match before the 2021 SheBelieves Cup, Canada erased a two-goal deficit in the first half to earn a draw with Brazil in its final match at the Tournoi de France. Veteran midfielder Diana Matheson came off the bench in the second half to score her 19th career goal and give Canada a life line. After Brazil had a player red carded, Janine Beckie netted the equalizer on a breakaway in the final minutes of regulation time off a brilliant setup by Matheson.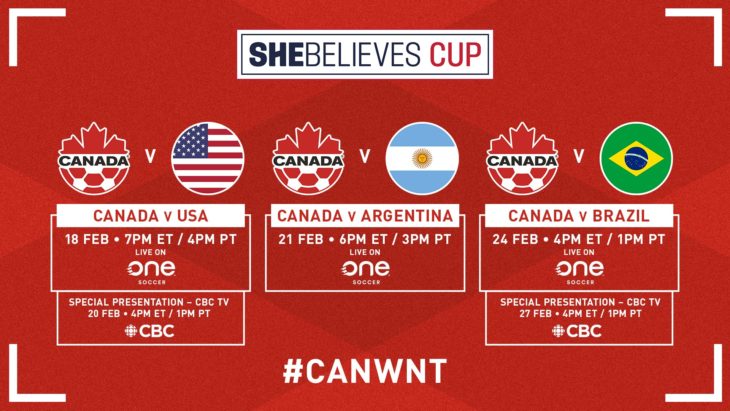 Continue reading...