---
2021 SheBelieves Cup — Match #4 Argentina vs. Canada February 21, 2021 at 6:00 p.m. ET Exploria Stadium in Orlando, Florida Watch Live: OneSoccer.ca
​
---
After losing its opener at the 2021 SheBelieves Cup, Canada will try to get on the winning track when it returns to action on Sunday versus Argentina. The Canadians are coming off
a tough 1-0 loss the United States
on Thursday in coach Bev Priestman's debut. Despite the setback, Canada earned praise from Priestman for their valiant effort versus the two-time defending World Cup champions. "For an opening game as a new coach coming in, you want players to put everything out on the field and I'm absolutely proud. I think they did that; the mindset was right, they worked really hard and they took it to the U.S. in moments in that game," Priestman said. Indeed, the Americans were made to work for everything they earned against Canada's resolute defence, while Priestman's side came close to scoring on a number of occasions, in addition to having been denied a clear penalty decision. Canada showed great commitment, work rate and spirit over the 90 minutes, which is something it can build upon for the rest of the SheBelieves Cup. Will we see any progress being made by the Canadians against Argentina on Sunday?
---
RELATED READING:
CanWNT report card: Gilles, Chapman shine in stalwart performance || 3 takeaways from CanWNT vs. U.S.: Priestman era begins with plenty of positives
---
5 THINGS TO KNOW​
Canada in search of goals: One of the criticisms of this Canadian team the past few years is the lack of impetus up front. Against the U.S., Canada showed plenty of attacking intent and it created scoring chances, only for those opportunities to go begging. Defender Shelina Zadorsky was impressed by Canada's attacking build-up play against the Americans, and believes the team will break out at this tournament if it can show more composure in front of goal. "We all know as a team we want to be scoring more goals. We always talk about our Canadian identity as resilient, hard to get around, great defending. … We created chances against the U.S. and we have the quality of players to finish those," Zadorsky said.
Canada's goalkeeping situation: Backup goalkeeper Kailen Sheridan earned the nod against the U.S., but she came out after only 10 minutes with what appeared to be a lower-body injury. Stephanie Labbé replaced her and put in an outstanding performance, making a number of key saves to keep Canada in the game. With Sheridan ruled out for the rest of the tournament, will Priestman go back to Labbé against Argentina? Or will she hand a first Canadian cap to Liverpool's Rylee Forster and save Labbé, Canada's regular starter, for the much tougher Brazil in the group stage finale?
More debuts for Canada?: There's are five newcomers on this Canadian roster: Foster, forward Evelyne Viens, midfielders Jordyn Listro and Samantha Chang, and teenaged defender Jade Rose. Viens earned her first cap against the United States when she came on as a second-half substitute and breathed a bit of life into the Canadian attack. Considering the disparity between Canada (eighth in the FIFA world rankings) and Argentina (31st), it'll be interesting to see whether or not Priestman uses this game to give the other new faces their first caps and allow them to gain some valuable international experience.
COVID chaos for Argentina: Four Argentina players were ruled out of its SheBelieves Cup opener vs. Brazil on Thursday due to COVID-19 protocols. One of the players has been deemed ineligible for the entire tournament, while the other three will undergo more testing to determine if they can play vs. Canada.
How the tournament works: After the Argentina game, Canada plays Brazil (tied with Canada in the world rankings) on Feb. 24. The team with the most points at the end of the round-robin wins the tournament. The first tiebreaker is overall goal difference, followed by most total goals scored, and then head-to-head results. Canada sits third in the table behind the U.S. and Brazil, who beat Argentina 4-1 in its opening match.
WHAT THEY'RE SAYING​
"(Argentina is) not an easy team to beat. For us it's a great opportunity to play (a team with) that style, which we haven't played very often. With a team like that, they're going to defend for their life, they're going to have individual flair in moments, and they're some key players who you have to take make sure to take care of. There'll be an element of surprise that you get with any South American team." - Canadian coach Bev Priestman
"We'll definitely be focusing on us (vs. Argentina) and bringing the defensive quality we had against the U.S., and then adding goals. We know we need to finish our chances, s0 that's definitely going to be a focus for us." - Canadian defender Shelina Zadorsky
ALL-TIME SERIES Canada wins: 4 || Argentina wins: 0 || Draws: 0

PREVIOUS MEETING October 20, 2011: Canada 1, Argentina 0​
The Pan American Games in Mexico was the site of this encounter, with Canada earning a 1-0 win to qualify for the semifinals. Striker Christina Julien scored the lone goal. Only two players who saw action that day are on Canada's roster at the SheBelieves Cup: Midfielders Sophie Schmidt and Desiree Scott. Canada went to beat Brazil in the gold-medal match.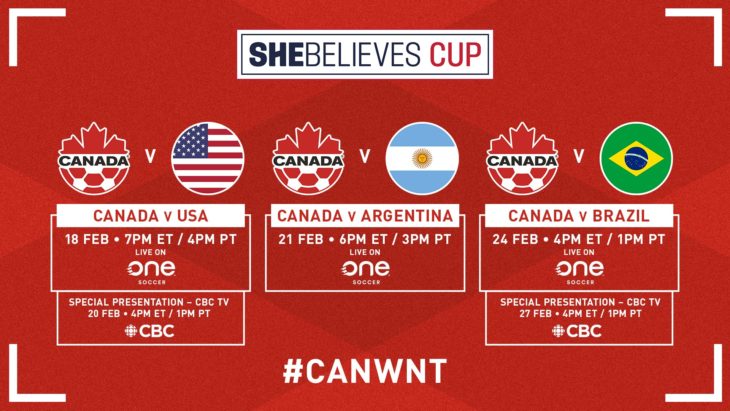 Continue reading...