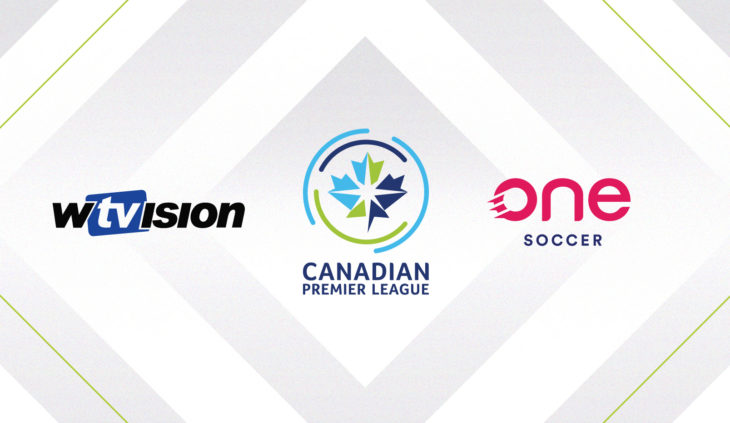 Canadian Premier League Unveils Canadian-First Virtual Stadium for 2020 Island Games
Charlottetown, PEI – (August 13, 2020)
–
The Canadian Premier League, in partnership with OneSoccer, is pleased to unveil Canada's first virtual stadium for a professional sporting competition to be featured at the 2020 CPL
Island Games
. The virtual stadium environment has been created by wTVision, a global leader in broadcasting solutions as virtual and augmented reality graphics for sports having completed work in Spain's La Liga and other football leagues around the world. This ground-breaking technology will deliver fans a first-class viewing experience of the Island Games on OneSoccer. The technology creates, as much as possible, the feeling of being in a seat at the stadium. In addition to delivering unique club and partner branding executions, fans can participate directly in the Island Games virtual stadium by submitting their photos as part of the #fromthetop program – (fans can submit their photos to:
TheIslandGames@canpl.ca
. Select photos submitted by fans will be featured on the virtual video board inside the stadium during their favourite Club's matches throughout the 2020 season. "The facilities at the University of Prince Edward Island are impressive and we're honoured to host the 2020 Island Games in Charlottetown," said Canadian Premier League Commissioner David Clanachan. "However, the facilities are not a traditional stadium environment for broadcast so we challenged ourselves to come up with an innovative and creative way to deliver a professional-calibre experience for our fans, supporters and partners that also provided a fun way for fans to participate and engage throughout the broadcast. We think we found the best possible way to do so working with a global leader like wTVision and implementing their innovative virtual solution. We're excited for our fans and supporters to experience the first match on OneSoccer." "Creating Canada's first virtual stadium for a professional sporting competition was an exciting challenge for wTVision. We needed a visual solution that would guarantee the entertainment and emotional side of football. So, our broadcast design team created the complete graphic design of the virtual stadium, preparing all visual aspects and implementing them in the most effective way. The Augmented Reality-built stadium is the result of wTVision's very own technology and we're very happy with the final result," said Flávio Maurício, wTvision's US Country Manager. - 30 -
About wTVision
wTVision creates integrated broadcasting solutions based on software development, branding and design, live operations and specialized human resources outsourcing. The company takes part in thousands of broadcasts every year and has experience in more than 60 countries. wTVision's solutions for sports, election coverage, entertainment shows and news are, together with its master control systems, the preferred choice of major TVs and producers all over the world.
About The Island Games
Charlottetown Prince Edward Island will be the host location for the Canadian Premier League's 2020 season.
The Island Games
will commence on Thursday, August 13 with all eight (8) Canadian Premier League Clubs participating: HFX Wanderers FC, Atlético Ottawa, York9 FC, Forge FC, Valour FC, FC Edmonton, Cavalry FC and Pacific FC. All matches will be played at the University of Prince Edward Island (UPEI) FIFA quality Turf Field.
About the Canadian Premier League
Canadian Premier League
(CPL) is Canada's professional men's soccer league that debuted on April 27, 2019. Headquartered in Toronto, ON, the Canadian Premier League features eight clubs from coast-to-coast. For updates and more information on the CPL, a league for Canadians by Canadians, visit
CanPL.ca
.
About MEDIAPRO Group
The
MEDIAPRO
Group, which recorded annual revenue of close to €2 billion in 2018, is a leader in the European audiovisual sector. With a fleet of 70 High Definition and 4K Outside Broad- cast units, the Group produces some 7,000 events around the world each year. It is currently involved in the production of 16 national soccer competitions around the world, including top-tier leagues in Spain, France, Portugal, Italy, Greece, Turkey, Kenya, Angola, Slovenia, Serbia, Colombia, Bolivia, Mexico and now Canada. Mediapro Group crews produce events for the UEFA Champions League, FIFA Confederations Cup, FIBA, Euroleague, FIFA World Cup, the Arab Games, the Africa Cup of Nations and Formula 1. In Spain,
MEDIAPRO
manages the rights to the LaLiga Santander for public establishments and was awarded a wide package of rights for the four seasons from 2020-21 to France's Ligue 1 and Ligue 2, where it is set to launch a 24/7 channel to carry live coverage of league matches. The
MEDIAPRO
Group produces more than 15 TV channels worldwide, including several specialty sports channels, such as beIN SPORTS and beIN LaLiga (in association with the beIN Media Group), Real Madrid TV and Golf Channel. With 58 offices on four continents,
MEDIAPRO
is also one of the most important creators of content in the world, with projects for HBO, Netflix, Amazon Prime Video, Turner, DirecTV, Movistar, FOX, Viacom and Televisa.
For more information:
Micki Benedetti Canadian Premier League
micki.benedetti@canpl.ca
905.466.2575
Continue reading...