Canadian Premier League Announces Fan Awards Winners Thousands of Fans and Supporters from Coast-to-Coast Voted for their Favourite
Toronto, ON (December 16, 2019) – The Canadian Premier League announced today the CPL Fan Awards winners. From Monday December 2 until Sunday December 15, 2019, fans had the chance to vote for their favourite players and plays while entering to win prizes though the Fan Awards nominees web page. Winners for awards based on fan voting across all CPL digital platforms (website, social channels and Centre Circle App) are as follows:
BEST GOAL OF THE YEAR
Forge FC's Kadell Thomas for his goal against Valour FC
ALLSTATE GOOD HANDS AWARD (Save of the Year)
Marco Carducci of Cavalry FC "It was an honour for Allstate to be part of the Canadian Premier League's inaugural year and show our commitment in supporting professional soccer in Canada with a league For Canadians, By Canadians," says Marcelo Regen, Vice President, Allstate Brand Innovation & Chief Customer Officer. "On behalf of Allstate, we are honoured to recognize Marco Carducci of Cavalry FC with the 2019 Allstate Good Hands® Award for his incredible penalty kick save during Leg 1 of Canadian Premier League Finals vs Forge FC. Being recognized in the CPL's first season and showcasing your skills will surely motivate the future players watching and aspiring to be like you. We know your future and that of the CPL's is bright."
TEAM OF THE YEAR
Featuring the top eleven players across the Canadian Premier League:
Goalkeeper
Marco Carducci – Cavalry FC
Right Back
Morey Doner – York9 FC
Left Centre Back
Daniel Krutzen – Forge FC
Right Centre Back
Dominick Zator – Cavalry FC
Left Back
Kwame Awuah – Forge FC
Defensive Midfielder
Elijah Adekugbe – Cavalry FC
Right Centre Midfielder
Tristan Borges – Forge FC
Left Centre Midfielder
Kyle Bekker – Forge FC
Right Wing
Nico Pasquotti – Forge FC
Left Wing
Marco Bustos – Valour FC
Striker
Dominique Malonga – Cavalry FC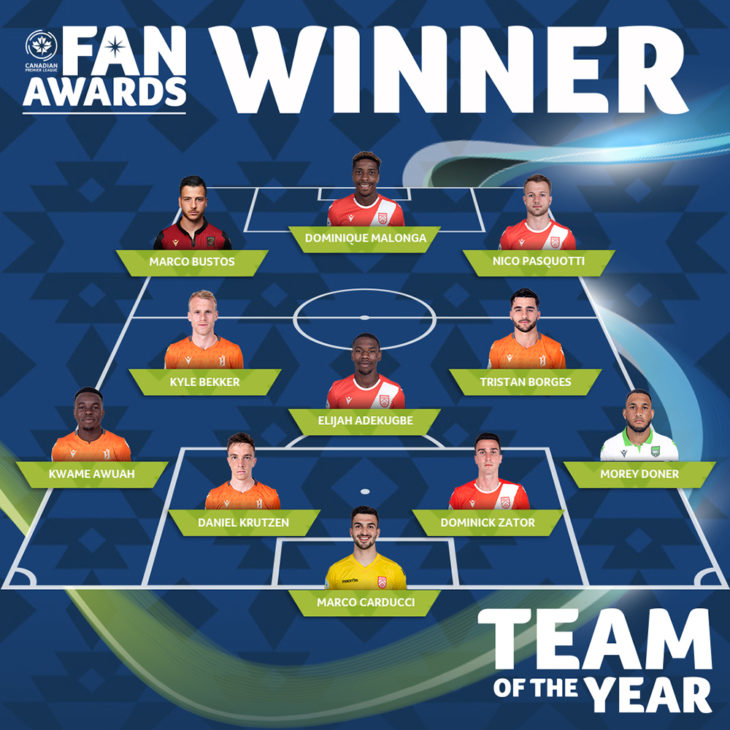 About Canadian Premier League
Canadian Premier League (CPL) is a Canadian professional men's soccer league that debuted on April 27, 2019. Playing in world-class and unique venues, and partnering with strong community-led ownership groups, the CPL is a league for Canadians by Canadians that will bring professional soccer to communities coast-to-coast. For updates and more information, please go to CanPL.ca.
For more information contact:
Micki Benedetti Canadian Premier League
micki.benedetti@canpl.ca
Continue reading...