---
Soccer fans have spoken, as the 2020 CPL Fan Awards winners were unveiled on Monday. Nine categories were contested by over 50 entrants, including the 30 players up for selection in the Fan Awards' Best XI. Other categories included: Allstate Good Hands Save of the Year Award, We Are One Community Award, eSports Moment of the Year, Fan Favourite Match, El Jimador Shot of the Year, Assist of the Year, Best Celebration, and Fan Moment of the nominees. Here are the winners of CPL's 2020 Fan Awards.
---
RELATED READING: More on the 2020 CPL Fan Awards
---
Allstate Good Hands Save of the Year: Callum Irving, Pacific FC — vs. Atlético Ottawa, September 2 (1st Round)​
---
Pacific FC Callum Irving's double-save at The Island Games captured the most votes, as he edged out Marco Carducci of Cavalry FC and FC Edmonton's Connor James for the honour. On the brink of stoppage time in this cagey first-round affair, Pacific faced a barrage of chances from Ottawa, including this pair of opportunities on Irving's doorstep. Ottawa's Mohamed Kourouma took the first shot, which Irving fended off from point-blank range, and the goalkeeper was then forced to dive and push away the rebound, which had bounced off his own defender toward the goal. Unfortunately for Irving and Pacific,
Atlético Ottawa did end up finding the winner
, scoring off a corner kick just seconds after this save. Still, kudos to Irving for coming up big with this stop. "Allstate is very proud to support the CPL and the incredibly well-run Island Games that they hosted in 2020," shared Marcelo Regen, Vice President, Allstate Brand Innovation and Chief Customer Officer. "This was a season that truly highlighted the talents of Canadian athletes and one of the best, Callum Irving of Pacific FC, made an 89th minute save that will be talked about for a very long time. On behalf of Allstate, we are honoured to recognize Callum for a save that can only be described as 'spectacular' vs. Atlético Ottawa on September 2, 2020. We are two years into our partnership with the CPL and can already see that the talent the league has attracted is exceptionally exciting to watch. We are already excited to see what 2021 brings."
Fan Favourite Match: Forge FC 2-2 Cavalry FC (August 13, 2020) – 1st Round​
The CPL's long-awaited return to play ended up being a favourite of CPL fans, garnering the most votes in the Fan Favourite Match category. Truth be told, The Island Games' opening match had everything. In a rematch of Finals 2019,
Forge FC took on Cavalry FC in their first match in nearly 300 days
, creating an end-to-end affair with goals, beautiful saves, and many dramatic moments. Dominick Zator's 11th-minute opener for Cavalry was matched beautifully by Anthony Novak, who scored a wicked overhead kick against the run of play for Forge. A bizarre sequence that ended in Nico Pasquotti's trademark long throw being ruled out left onlookers in awe: The CPL was back in a big way! Oh, the assist of the year winner listed below gave Forge a dramatic late lead only for a much-debated penalty decision handing Cavalry the equalizer.
Assist of the Year: David Choinière, Forge FC – vs. Cavalry FC, August 13 (1st Round)​
---
Forge FC's David Choinière has a knack for catching the eye
, coming up in big games with clutch moments. This assist to Kyler Bekker did exactly that for CPL onlookers, who voted it for Fan Awards Assist of the Year. The former Montreal Impact winger tracked Bekker's late run into the box and whipped in an inch-perfect cross, requiring his captain to simply lean into the diving header and give Forge the lead. All of this came after an excellent overlapping run after seeing teammate Mo Babouli surge forward. A brilliant one-hit cross that outdid efforts from FC Edmonton's Antony Caceres and HFX Wanderers FC winger Alex Marshall.
Best Celebration: Mohamed Kourouma, Atlético Ottawa – vs. York9 FC, August 15 (1st Round)​
A historic moment worthy of a victory, Atlético Ottawa's first goal fetched the most votes in the Fan Awards' Best Celebration category. Mohamed Kourouma's epic dive into Ottawa's bench in their first-ever match against York9 FC stands as one of the more frantic celebrations in CPL history. Kourouma launched himself into a bench of his teammates who were eager to catch him – a moment that will live forever in Ottawa professional football and captured beautifully by hidden cameras near Ottawa's part of the touchline.
El Jimador Shot of the Year: Mo Farsi, Cavalry FC — vs. Pacific FC, September 9 (2nd Round)​
---
As his
former teammate Niko Giantsopoulos said
: "Well, that's a shot in a half."
Best Under-21 Player of the Year Mo Farsi
captured the El Jimador Shot of the Year honour with this second-round off-the-post effort against Pacific FC. Farsi did it all himself, pouncing on a sluggish pass out from the back by Pacific's goalkeeper. He knocked the ball ahead for himself, took it into the box, and then rifled a shot perfectly off the far post and in from a difficult angle. It was a goal created from nothing, and a moment of magic that sealed
Cavalry's 3-1 victory
to open the group stage of The Island Games. "I remember like it was yesterday – they way it hit the post, the angle. When I saw it hit the post, I swore it came across the line. The celebration was just pure emotion, just screaming," Farsi told CanPL.ca. The 20-year-old's
golazo
edged efforts from now-Pacific midfielder Manny Aparicio and Forge FC's Kwame Awuah.
Fan Moment of the Year: HFX's Wanderers Grounds fan celebration​
HFX Wanderers supporters back in Halifax won the Fan Award for Fan Moment of the Year after
safe, socially-distanced watch parties
took over the pitch at Wanderers Grounds. Although the team sadly wasn't able to play in front of the raucous Kitchen at Wanderers Grounds, devoted followers of the club still managed to show their support as they inched closer to the 2020 CPL Final. The first watch party, for the Wanderers' 2-1 win over Cavalry FC, was able to
draw over 400 fans
for a safe Kitchen Party under strict COVID-19 protocols. The next weekend, the club threw another watch party at their stadium as the Wanderers took on Forge FC in the CPL Final, giving fans a chance to watch their side attempt to make history together.
eSports Moment of the Year: HFX's Christian Oxner wins Home To Play tournament​
Another winner for the Wanderers! Goalkeeper of the Year nominee Christian Oxner took home the eCPL moment of the year with his championship-clinching goal at the Home To Play Tournament back this Spring. His do-or-die matchup against Atlético Ottawa and Malyk Hamilton proved an easy result for "The Ox."
We Are One Community Award: CPL Players for Black Lives Matter​
Every CPL player from all eight teams took to the pitch before an Island Games match between Atlético Ottawa and Cavalry
to show solidarity for BIOPIC and the Black Lives Matter movement
. The pre-game demonstration was
organized by the CPL players
, who posted a message of solidarity with the Black community – as well as Canadian indigenous, LBGTQ, and Islamic communities – on social media earlier in the day. Another moment of silence came at the eight-minute mark of the match – 8:46 to be exact – when play officially stopped to honour George Floyd, the Minnesota man who was killed in June when a police officer held his neck to the ground for eight minutes and 46 seconds.
2020 Fan Awards Best XI​
Forge FC dominated the Fan Awards XI with five players, starting with Goalkeeper of the Year winner Triston Henry and centreback combo Daniel Krutzen and David Edgar. Player of the Year winner Kyle Bekker was a shoe-in, while Mo Babouli narrowly made it into the front three. HFX Wanderers came down with three entrances: Defender Chrisnovic N'Sa, midfielder Abou Sissoko, and golden boot winner Akeem Garcia. Rounding out the all-CPL team is Mo Farsi of Cavalry FC and Pacific FC's Marco Bustos and Thomas Meilleur-Giguère.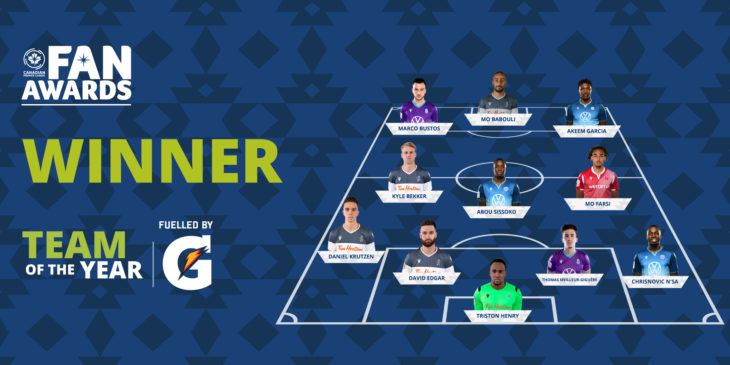 Continue reading...