Tristan Borges has left Hamilton, and with his move to Belgium, the young Canadian star has also brought to a close an important first chapter in the Canadian Premier League's history. From a pure "mission complete" standpoint, the CPL has now accomplished most, if not all, of its major goals and existential purpose with the sale of the Forge FC star. It has provided Canadian players with a platform to return home, a professional outfit and environment for local talent to aspire to, a showcase for national team attention, and, lastly, a place where players can build a resume and move on to either Major League Soccer or other major leagues abroad.
RELATED READING: 4 reasons why Borges was 1st CPLer sold to a European club
In every single aforementioned category, the CPL completed those missions to the fullest extent. More than 100 players returned home or were given professional opportunities in this league. The CPL-U SPORTS Draft saw many young players become professionals for the first time. Star performers Marco Carducci, Amer Didic, Dominick Zator, and Borges were called into the senior Canadian men's national team. Cavalry's Joel Waterman and FC Edmonton's Didic have attracted MLS attention, with the former making a full transfer to the Montreal Impact, and the latter currently training with the Whitecaps and garnering plenty of positive praise by Marc Dos Santos. Finally, Borges, the league's MVP and top scorer, earned a move to Europe with Belgian outfit Oud-Heverlee Leuven.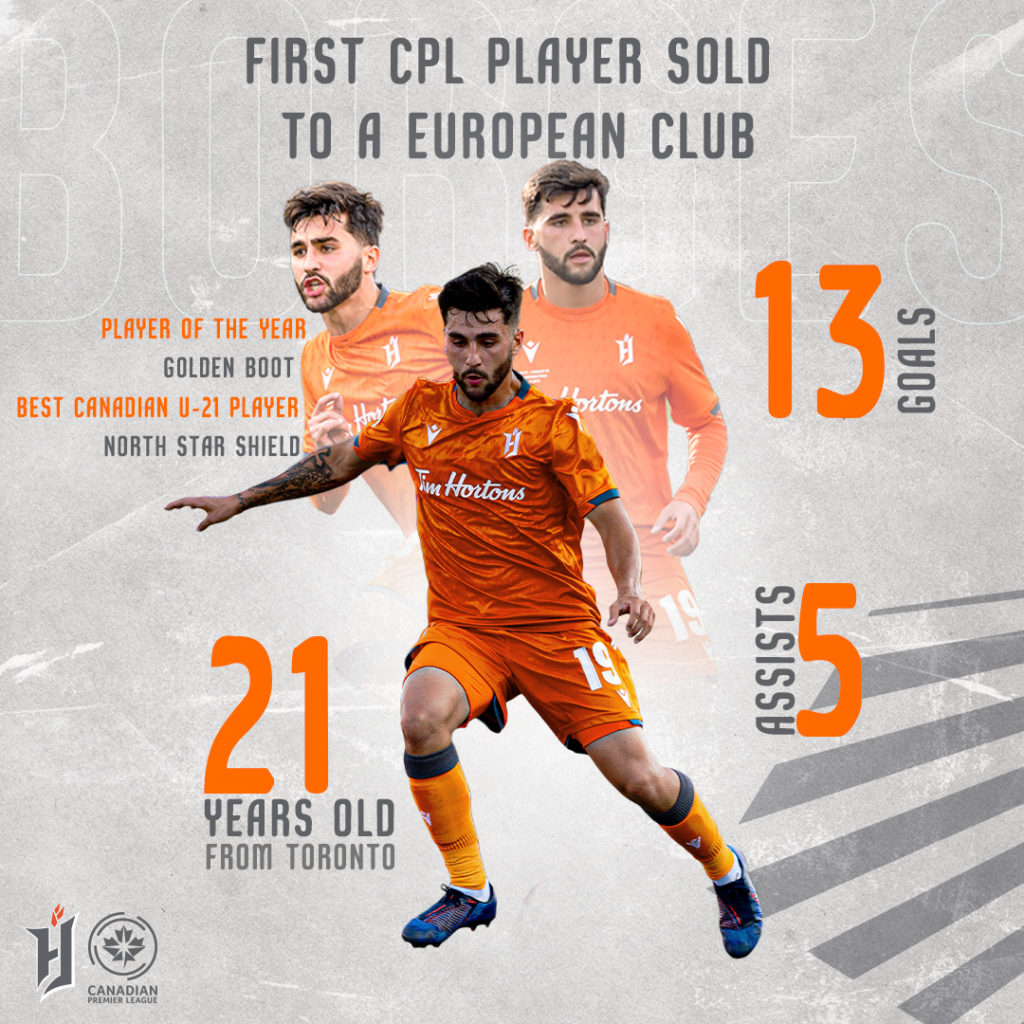 RELATED READING: 'He deserves it': Bekker lauds Borges after 'unsurprising' Belgium move
Along the way, CPL clubs in partnership with OneSoccer's complete gameday broadcasts put together an entertaining 2019 campaign filled to the brim with astounding,
highlight-reel-worthy goals
, intense
local
and
cross-continental
rivalries, new supporter movements filling charming new stadiums, memorable matches
to start
and
to end
the season, head-turning performances in the newly-expanded Canadian Championship – including
a massive upset
by Cavalry FC over the Whitecaps – and the deepening of the Canadian player pool with new stars such as Abzi Diyaeddine, Terran Campbell, and Tyler Attardo, among many, many others. So, ladies and gentlemen, as we approach the start of 2020 pre-season, it's important to take a moment and reflect on just how far this new league of ours has come in such a short period of time. All of this has happened in the course of 12 or so months.
RELATED READING: Forge FC's Tristan Borges sold to Belgian club in historic transfer
All of these accomplishments? They belong to all of Canada. This isn't the result of one club dominating or another pulling off surprise wins they perhaps did not deserve; in their own way, each CPL club has helped make this movement more than a dream. As one of the longest-tenured employees in the CPL, who had the incredible fortune to be employed and to fulfil a dream role for this country and for this league well before a ball was ever kicked, it's humbling for me to see just how far things have come for soccer in this country. When Toronto FC first kicked off in 2007, no one could have imagined where we would all be some 15 years later. Toronto FC was, of course, the proving grounds where this young writer first cut his teeth in sports journalism.
(That the Reds were so patient with this hot-headed, brash, and sometimes troublesome reporter is a testament to their continued commitment to the growth of the game in this country. Lord knows why, truth be told ...).
All these years later, I look across our country and see that same movement – that same passion, that same dream of greatness, that same commitment to making this happen in Canada – sprouting up and thriving and turning heads and inspiring debates and filling the hearts and minds of fans, old and especially young, with their own dreams for soccer in Canada.
RELATED READING: 'Borges! It's gorgeous!': Watch the best of Tristan Borges
I will forever be grateful to have experienced this massive development and groundswell first-hand. As Borges departs for Belgium, he does so with the sort of attention and hope and expectation and pressure and support that no player who has left before him has carried; it's the same for many of Canada's young crop, most notably Alphonso Davies, who is doing all of this at the highest level possible, as a starter for Bayern Munich – one of the best clubs
in the entire freaking world.
We are entering a time of great soccer prosperity in Canada. The Canadian Premier League is playing its own part in telling this story.
Continue reading...