---
Welcome to As It Stands. At the start of each week through the end of the season, we'll bring you this easy-to-digest wrap-up of everything you need to know from the weekend that was in the Canadian Premier League, and keep tabs on how each team is progressing in its hunt for silverware.
---
Well, that was quite the weekend. Three out of four matches in week 25 of the regular season had playoff implications, and all of them seemed to shift the tides dramatically as we enter the final matchweek of the campaign -- with a lot still left to be decided. We began in Calgary on Friday night, when regular season champions Cavalry FC enjoyed a triumphant homecoming in the rain by
coming from a goal down to beat Valour FC 2-1
. That, however, was the only game without any impact on the standings, with the Cavs locked into top spot and Valour out of the playoff race. That game was more of an appetizer for the drama that was to come. Saturday's doubleheader started in Halifax, where the Wanderers clinched a playoff spot in jubilant fashion by
beating Forge FC 2-1
, as Dan Nimick scored his
sixth
goal of the year -- and his fourth from the penalty spot. Later that night, the B.C. Derby delivered another classic, as Vancouver FC played spoiler at Starlight Stadium,
defeating Pacific FC 2-1 to split the season series
with their rivals. Finally, the weekend's showpiece match, between fifth- and sixth-placed York United and Atlético Ottawa (in varying order), flipped the script on the race for the final playoff spot. What looked like it was turning into a cagey 0-0 draw turned into a memorable afternoon on a dime, as
Kevin Dos Santos played hero for York with an 89th-minute winning goal
to put the Nine Stripes back into a postseason spot. In week 25, the CPL also
recognized National Day for Truth and Reconciliation
, with all eight teams donning orange shirts for warmups and pre-game ceremonies in efforts to help build awareness and drive meaningful discussions around the impact of residential schools in Canada. For more information,
click here
. With one week to play, here's how the table looks:
---
Four out of five playoff teams are confirmed, with just one to join them. The Halifax Wanderers were the latest to book their ticket, beating Forge to qualify for the postseason for the first time in a full CPL campaign. Of course, they went all the way to the final of the Island Games in the 2020 bubble tournament in P.E.I., but this year's success will feel sweeter to Wanderers fans. Even sweeter is that they'll be on hand for at least one playoff match; thanks to York's win over Ottawa, the Wanderers are guaranteed to finish in the top four, and therefore to host a game in Halifax. The Wanderers have a lot left to play for in the final week when they visit Valour FC, and so too do Forge and Pacific. All three teams could finish anywhere from second to fourth. One last wrinkle for the final weekend, though, is it's the last chance for clubs to hit their U-21 minute threshold. Cavalry FC crossed the line on Friday, meaning Forge, York and Halifax are the only three sides still to do so. Forge need just 38 minutes in their last match to get to 2,000, so one Kwasi Poku start should do it, but York and Halifax have to do a little more. The Nine Stripes need another 123 minutes in Vancouver -- thankfully, it sounds like Noah Abatneh is okay after coming off against Ottawa on Sunday. The Wanderers, meanwhile, still need another 195 minutes in Winnipeg. That means two players will probably start (Tiago Coimbra and Tomas Giraldo, perhaps?), with another coming off the bench. Armaan Wilson should be an option, as might Camilo Vasconcelos, who has yet to debut for the club. Or, will Yann Fillion's ironman streak of starting every game be broken to give him some rest and start Aiden Rushenas? Halifax have clinched a top four spot but they'd still like to finish as high as possible. It'll be a tricky balancing act for Patrice Gheisar. Finally, a quick tip of the hat to Vancouver FC's TJ Tahid and Forge's Kevaughn Tavernier, both of whom played for Canada's U-17 team this week in a couple of friendlies against Brazil -- a pair of narrow defeats against the defending U-17 World Cup and U-15 South American champions. Both players are hoping to get the call to the upcoming U-17 World Cup in Indonesia.
---
Monday Reading​
---
---
If the playoffs started today...​
Amazingly, there's just one week left and this could change dramatically before the playoffs actually kick off. We know Cavalry will host their first game at ATCO Field, against whoever finishes second. That team could, however, be any of Forge, Pacific or Halifax. The Hamiltonians have the edge right now, and a win for them against Ottawa on Saturday would guarantee it. If not, then they'll need Pacific to fail to beat Cavalry. For the Wanderers to climb that high, they'd need to beat Valour, then have Pacific and Forge both lose -- plus overturn a two-goal gap in differential between them and Forge. It's a tough scenario, but not impossible. Halifax could get into third with just a win and a Pacific draw or loss. The fifth and final spot will go to either York or Ottawa. The Nine Stripes control their own destiny, and if they win at Vancouver they're in. They would play Wednesday night in the fourth vs. fifth game -- but they might not know where that'll be until after Saturday's games. If they don't beat VFC, they'll be watching intently on Saturday hoping Forge do them a favour and don't lose to Atlético Ottawa.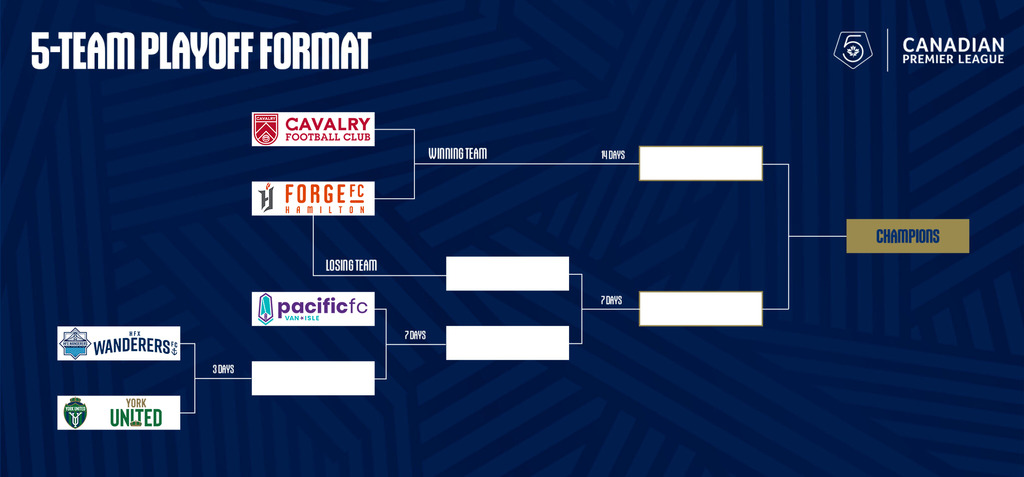 ---
Breaking down the run-in​
It's not much of a run-in anymore, but each of the four games to be played in matchweek 26 -- the final weekend of the regular season -- has playoff seeding implications. Cavalry host Pacific in a game where the Tridents need a win to finish second (and therefore return to Calgary for a playoff game the following week). That also makes it interesting to watch how Cavalry approach that game, knowing if they lose there might be a rematch right away. Also: Cavalry will lift the CPL Shield as regular season champions on Saturday after their game. They won't exactly want a loss in the preceding game to put a damper on that party. York go to Vancouver, where they've already won 2-1 this year. A win there would guarantee them fifth place and eliminate Atlético Ottawa before Saturday's games. Anything else, and the Nine Stripes have to wait and see. In that case, anything short of an Atleti win at Forge would still put York in the playoffs. It's worth noting that the two matches on Saturday -- Cavalry versus Pacific and Forge versus Atlético Ottawa -- have been adjusted so both games will kick off at the same time (5 p.m. ET/3 p.m. MT). It should be quite the entertaining season finale to wrap up the playoff race before the postseason itself begins.
Note: games listed in
bold
are at home; games in italics are away.
| | | | | | |
| --- | --- | --- | --- | --- | --- |
| | | | | | |
| Pacific FC | Cavalry FC | Forge FC | Atlético Ottawa | Valour FC | Vancouver FC |
---
Awards Watch​
The Golden Boot remains up for grabs in the final week, with the major contenders seemingly in a scoring rut the past few weeks. Leader Ollie Bassett, who's on 11 goals, hasn't scored for four games now, and it's been seven since Terran Campbell last found the back of the net. Entering next weekend, Bassett will have a one-goal lead at the top, but
three
players -- Campbell, Myer Bevan, and Woobens Pacius -- sit tied for second on 10 goals. Pacius joined the other two on Saturday with his goal against Halifax. He might be the most in-form of them all right now, with six goals in his last five games including one in each of the last three, so it's not impossible he puts two past Atlético Ottawa to take the award at the final hurdle. Pacius has five goals in his career against Ottawa, though just one in the last two seasons. In other awards watch news, Player of the Year remains very much a toss-up between a handful of players. Ollie Bassett is a contender to retain the award, but he'll have competition. Momentum has been building behind some defenders -- Cavalry's Daan Klomp and Halifax's Dan Nimick in particular -- and we can't count out Ali Musse, who has looked extremely dangerous the past two weeks for the Cavs. Tommy Wheeldon Jr. still feels like the significant front-runner for Coach of the Year, but Patrice Gheisar has to be in the mix for what the Wanderers have been able to do, getting into the top four and possibly even higher. Also, if York get themselves into the playoffs after the up-and-down, injury-riddled season they've had, does Martin Nash deserve a nod?
---
Coming up next...​
Friday, Oct. 6​
Valour FC vs. Halifax Wanderers (6:30 p.m. CT/7:30 p.m. ET) Vancouver FC vs. York United FC (7:30 p.m. PT/10:30 p.m. ET)
Saturday, Oct. 7​
Forge FC vs. Atlético Ottawa (5 p.m. ET) Cavalry FC vs. Pacific FC (3 p.m. MT/5 p.m. ET)
(Watch all four games live on
OneSoccer
)
---
Photo of the Week​
Kevin Dos Santos' goal was, undoubtedly, the biggest moment of the weekend in the CPL, catapulting York into the driver's seat of the fifth and final playoff spot. The celebrations in the corner by the York substitutes were evidence of just how much that goal meant to the club, who were minutes from a draw that would have given them a far slimmer chance of getting into the top five.
Continue reading...