---
The Canadian women's team returned to action on Thursday with, technically, a 1-0 loss to the United States at the SheBelieves Cup. That seems an unfair distillation of what happened, though. Over 90 minutes, a Canada side that hasn't played in almost a year (and hadn't even played under its current coach) went toe-to-toe with the undisputed best team in the women's game, in enemy territory. All that before mentioning that Canada were without, by most reckonings, at least three of their top five players. Had Canada been awarded that penalty in the 73rd minute, or had Nichelle Prince or Janine Beckie finished one of their clear chances, the result might look very different (of course, Lindsey Horan and Megan Rapinoe will be kicking themselves for their missed opportunities). All-in-all, it would be unreasonable to ask for a much better first step into the Bev Priestman era, given the circumstances. With an Olympic tournament looming less than half a year away, this team definitely has work to do, but some top-notch performances from tested veterans and relative newcomers alike suggest that this Canada side is probably capable of reaching a level it never quite did under Kenneth Heiner-Møller. With that said, here are three things that stood out the most from Canada's first game of the year.
---
RELATED READING:
CanWNT suffers heartbreaking loss to U.S. in SheBelieves Cup opener
||
CanWNT report card: Gilles, Chapman shine in stalwart performance
---
Quinn impresses in midfield​
A (perhaps unexpected) area of real strength for Canada on Thursday was in midfield, where Priestman opted for a trio of Desiree Scott, Quinn, and Jessie Fleming. The combination worked well; Scott was her usual tenacious, ball-winning self, which allowed Quinn to roam and Fleming to push up the field. One of Canada's top priorities moving forward should probably be getting the best out of Fleming, since the attacking midfielder might just be the most talented player they have at the moment. Fleming became more involved as the whole team settled in, with one first-half run in particular through three American defenders before drawing a foul perhaps the prime example of her natural ability. That's why, for this writer, Quinn should be starting in big games for Canada going forward. Their mobility and passing range helped free up additional space for Fleming, and eased some of the burden on Scott. The 25-year-old Quinn — who has often played as a defender for Canada — brought a well-rounded midfield element that seemed to make Canada more fluid with the ball. Defensively they managed to neutralize opposing midfielders like Lindsey Horan and Catarina Macario for much of the first half. Canada's midfield was a little more sluggish when Quinn was substituted for Sophie Schmidt in the 55th minute, and the Canadians seemed to opt more for balls over the top and stretched-out attacking play beyond the middle (although that did produce a few golden scoring opportunities, in fairness). Still, it seems that going forward, Canada's midfield needs to be faster and more agile to keep up with the top teams in the world, which might mean combinations of Scott, Schmidt, and Diana Matheson are less effective. One of the most common criticisms of Canada in recent years has been the pace of its attacking play; a more mobile midfield would go a long way toward improving in that area.
Finishing woes continue​
Despite the unquestionable positives for Canada in this game, a few players will still be leaving frustrated after the side couldn't find the back of the net. It wasn't for lack of chances; Janine Beckie in particular will be disappointed after missing a pair of point-blank chances, and Nichelle Prince had a few very good looks as well (plus she probably should have put away herself one of the chances Beckie missed). The way Canada managed to find opportunities on the counter-attack was impressive, with the outright pace of Prince and Deanne Rose causing real problems for the American backline at times. Evelyne Viens didn't have too many touches of the ball in her international debut, but she definitely has the eye for goal that could be Canada's solution in the future. Still, good attacking moves mean nothing unless they're converted to goals, of which Canada probably should have had at least two. It's tempting to speculate that, had Christine Sinclair or Jordyn Huitema been on the pitch, Canada might have capitalized on a few of those. Overall, Canada's attackers seemed to be missing a touch of confidence in front of goal to take their opportunities. Scoring has been a problem for the Canadians in games against top teams over the past couple years (dating back to the 2019 World Cup), but it's not for lack of talent. The goals should start to come, especially with chances like they had today. Perhaps the following two SheBelieves Cup matches against Argentina and Brazil will be what the Canadian attackers need to put a few more goals in the net and find a good rhythm.
Defence wins medals​
How have we got this far without mentioning Vanessa Gilles? She was outstanding on Thursday in just her third appearance for Canada, playing a key centre-back position that would normally be occupied by Kadeisha Buchanan. Gilles covered a lot of ground against the very experienced U.S. front line, holding firm for 90 minutes despite the Americans' injection of very talented reinforcements off the bench. Time after time, it was Gilles coming up with the last-ditch block or clearance to save Canada from another wave of attack. So impressive was Gilles' performance that she may have given Priestman a lot to think about when her squad is full-strength. Surely she wouldn't break up the pairing of Buchanan and Shelina Zadorsky (the latter of whom was excellent on Thursday as well), but Gilles provides fantastic depth. Alternatively, should Priestman test out a lineup with three at the back, Gilles could slot in perfectly, allowing Quinn or Sophie Schmidt to remain in midfield. Canada's defence was quite solid in general on Thursday -- they were pinned back fairly regularly, but a lot of the U.S. chances ended up blocked or herded into less dangerous areas. Stephanie Labbé did need to come up big on a few occasions (as did the crossbar, once), but all four starting defenders deserve credit for holding out so long against an extraordinarily dangerous U.S. attack. On the flanks, fullbacks Allysha Chapman and Jayde Riviere had a lot of work to do with Megan Rapinoe and Lynn Williams bearing down on them, but they were very hard to break down. Chapman, especially, was able to stick to Williams all night and prevent any truly dangerous crossing opportunities. Canada was pretty good defensively in 2020, but Thursday was even better -- and neither Buchanan nor Ashley Lawrence were there. With a full-strength squad, Canada will have an excellent base to build from going forward, having now proven that they can hang with the best team in the world.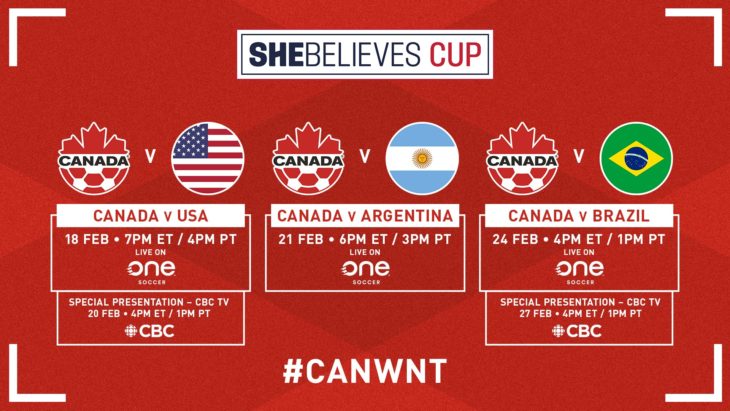 Continue reading...