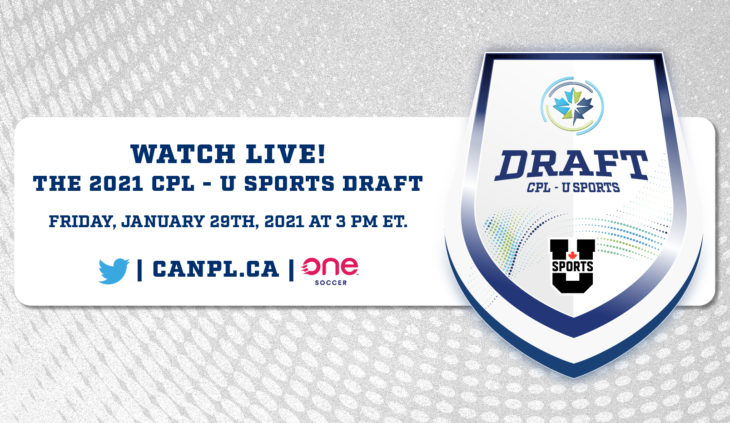 ---
Pour lire en français, cliquez ici
.
---
2021 CPL-U SPORTS DRAFT
Tune In at 3:00pm ET Friday, January 29
Toronto, ON (January 22, 2021)
–Select, top rated, Canadian University soccer players from coast to coast will have an opportunity to earn a spot on a
Canadian Premier League
Club through the
2021 CPL-U SPORTS Draft.
This year's edition will be conducted via an amended format due to the cancellation of the 2020 U SPORTS Men's Soccer Championship and Canadian university season across each of its four member conferences. Following a behind closed doors draft meeting, the player draft picks will be officially announced in succession on
Friday, January 29 at 3:00pm ET
LIVE on
CanPL.ca
,
@cplsoccer Twitter
and on
OneSoccer
. The draft will be hosted by OneSoccer host Adam Jenkins who will be joined by Alan Hudes, U SPORTS Manager of Communications and Content. The Draft will consist of two rounds, with eight picks in each round due to the addition of Atlético Ottawa. All 16 draftees will be invited to their club's preseason training, with the hopes of securing a 2021 U SPORTS Player Contract for the upcoming season. The order of the draft is based off of the Club's regular season record over the course of the CPL's 2020 season (Island Games) and will be formatted in a "snake draft" order as follows:
Reverse league table for non-playoff teams
Reverse order for two playoff but non-final teams
Runner up
Winner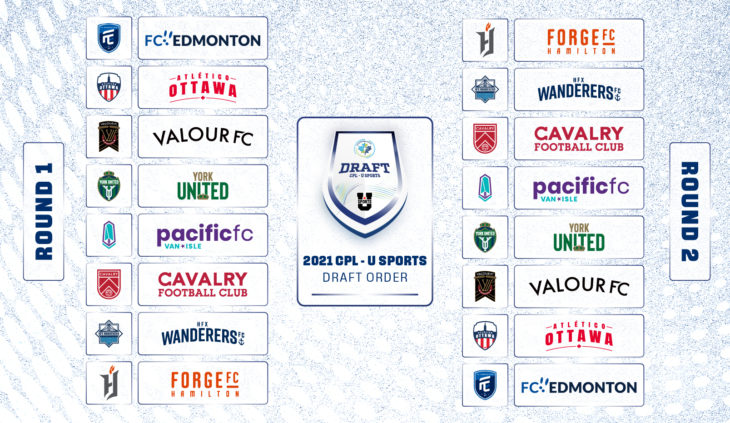 Procedural Rules for the 2021 CPL-U SPORTS DRAFT:
Draft Rounds:
The 2021 CPL-U SPORTS Draft will include two rounds and 16 selections.
Selection Clock:
Teams are permitted three (3) minutes to make a selection.
Intermissions:
There shall be a ten (10) minute break between Rounds.
Timeouts:
Each team is permitted one (1) timeout. Timeouts are three (3) minutes in duration. Selections must be made immediately following the timeout (no additional time given). More than two (2) timeouts cannot be used consecutively.
Failure to Make Selection in Designated Time:
Clubs that fail to make their selection in time must wait until the next selection is made, regardless if their choice is presented prior to the next club's decision. The team that was delinquent with its selection must immediately have its choice in hand following the selection of the club that followed. If not, the original club must again wait for the next selection to be made.
About the Canadian Premier League
Canadian Premier League
(CPL) is Canada's professional men's soccer league that debuted on April 27, 2019. Playing in world-class and unique venues, and partnering with strong community-led ownership groups, the CPL is a league for Canadians by Canadians that will bring professional soccer to communities coast-to-coast. For updates and more information, please go to
CanPL.ca
.
About U SPORTS
U SPORTS is the national brand for university sports in Canada. Every year, over 20,000 student-athletes and 900 coaches from 56 universities vie for 21 national championships in 12 different sports. U SPORTS also provides higher performance international opportunities for Canadian student-athletes at Winter and Summer Universiades, as well as numerous World University Championships. For further information, visit USPORTS.ca or follow us on: Twitter/Instagram/YouTube: @USPORTSca Facebook: @USPORTSCanada
Media Contacts:
Micki Benedetti Alan Hudes Vice President Communications Manager, Communications and Content
Canadian Premier League
U SPORTS
micki.benedetti@canpl.ca
ahudes@usports.ca
Cell: 647-991-5343 Off: 905-508-3000 ext. 242
Continue reading...