TORONTO – Tristan Borges has never shied away from admitting how big of a role Forge FC captain Kyle Bekker played in the successes of his 2019 Canadian Premier League MVP-winning, top goal-scorer season. Borges, all of 21 years old, has moved to Belgian outfit Oud-Heverlee Leuven (OHL) after capturing the two aforementioned accolades, as well as the North Star Shield, in what was an incredible inaugural season for himself and for Forge FC. For Bekker, his protege's move to Belgium doesn't come as much of a surprise, though. "He deserves it," Bekker told CanPL.ca, with no hesitation.
RELATED READING: Forge FC's Tristan Borges sold to Belgian club in historic transfer
"I'm just excited for him, man. I told him the same thing. He deserves it. He's a fantastic kid, and he's a fantastic player. It's a culmination of everything he worked for this past season, and everything he achieved. I couldn't be happier for him." That Bekker is so audibly pleased that his Forge cohort has made such a significant step in his career – and made CPL history as the first player sold to Europe – isn't surprising. The two Canadians, often referred to (by us) as the Bekker and Borges show – though OneSoccer experts called them "The Killer Bs" – racked up impressive individual stats en route to a championship title in 2019. Whatever you want to call 'em, the fact remains the same; Borges departs Forge a better player than he arrived. In that way, Bekker sees a tremendous residual value in Borges' tale, which will further the club's growing presence.
RELATED READING: 4 reasons why Borges was 1st CPLer sold to a European club
"In terms of the club, it's great to see that we're willing to push kids on to do bigger things and pursue their dream," Bekker affirmed. "Over the course of the season, I was lucky enough to see him day-in and day-out in practice, and saw him grow and take on that role of being a player who wanted the ball in the big moments, and take on that responsibility. He matured throughout the season, which was fantastic. "The big thing that we want to see with our kids in Canada as we progress in this league is giving them meaningful minutes and seeing how they react in a professional environment, when they're leaned on to produce and get those results. We all saw his final product as the season went on."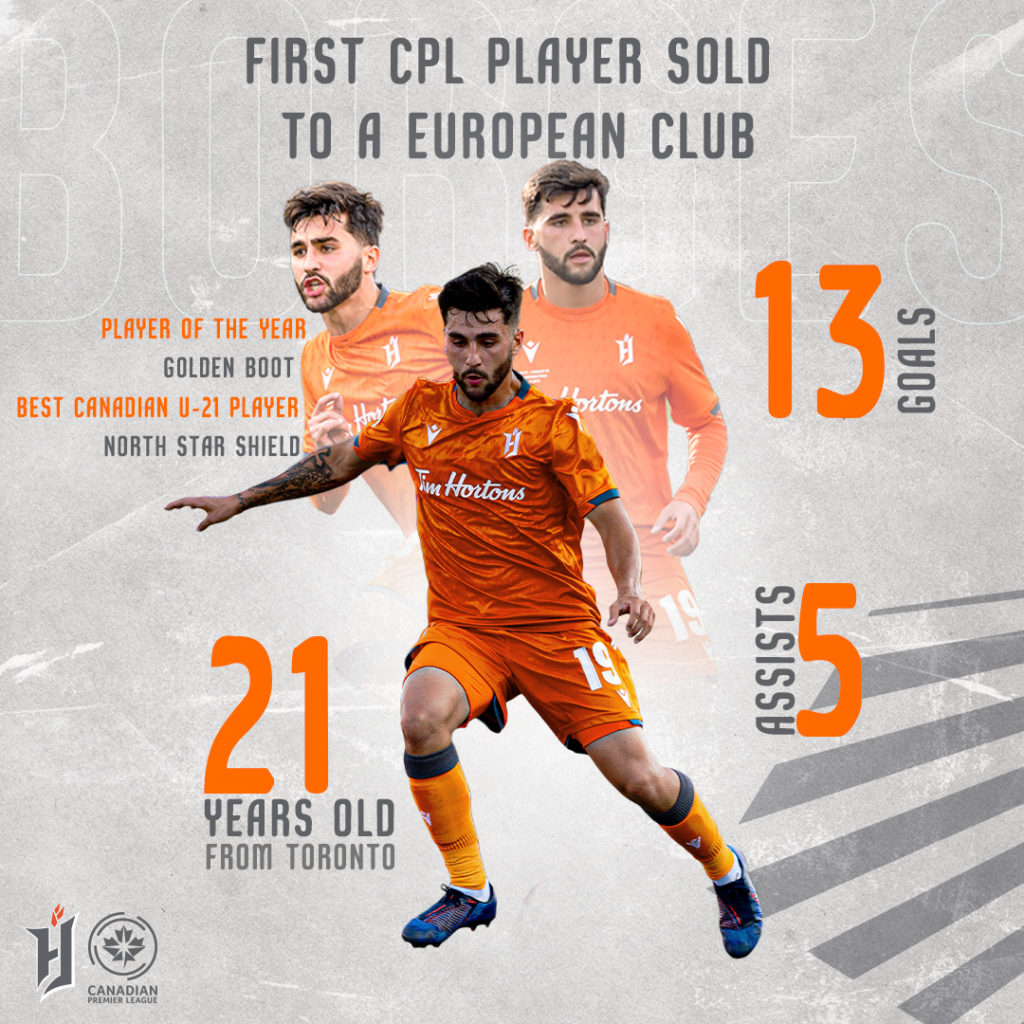 RELATED READING: BEDAKIAN: Borges' Belgian move completes mission in CPL case study
Bekker added: "If I'm a young kid coming back, whether it's my first or second season, now you've got to be excited. You see that this door is wide open. For us as a team, as Forge FC, there's now a void that needs to be filled. Tristan leaves a gap, and it presents an opportunity for younger kids to take the bull by the horns and take on that role, if they want it. That provides a very competitive environment from day one of pre-season. So, this is an example of what happens when you take that opportunity on and do well with it." A move to Belgium is, as Bekker explained, also quite 'on brand' for Borges, a 21-year-old phenom who joined the CPL out of the youth academy of Dutch outfit Heerenveen before turning heads in Hamilton, scoring goals by the buckets, winning every individual accolade he could, and earning a Canadian national team nod. "It's not a surprise at all (that he chose Belgium)," Bekker said. "He is, in my experience, very grounded, so he's been taking it all in stride and keeping his options open. He weighed out his choices and this is the right decision at the end of the day. It's an environment where they (OHL) came, they wanted him, and they liked what they saw. It's a place he can continue his development and growth as a player, too." Indeed, Borges will now face an even bigger task in a unique environment, as OHL, having locked up a spot in the Belgian second division promotion playoff, will look to help his team make the jump back to the Belgian first tier.
RELATED READING: 'Borges! It's gorgeous!': Watch the best of Tristan Borges
Still, Borges will do so with the knowledge that he's already cemented his name in the CPL's history books as the league's first true star. He, alongside other history makers, did so very much in the inaugural season ... in fact, there were so many milestone moments that Bekker sees the bar being raised even higher in 2020 and beyond. "This is now the benchmark," Bekker stated. "As players and as clubs, we have to go on and strive for more. If we had four or five guys called into national team camps, we want to grow that this year. If we had one or two signings moving on to more established leagues, we want more next year. We want to keep moving in that positive direction. "As we saw, we have that young, exciting talent capable of producing great things; it's just about how we can keep nurturing and developing those players, and getting better and more competitive as a whole. Everyone is excited, and that's the outlook for everyone across the board, which is fantastic to see and to be a part of. It's a sign of what's still to come."
Continue reading...